17 Best At-Home Laser Hair Removal IPL Devices To Buy In 2022
10 min read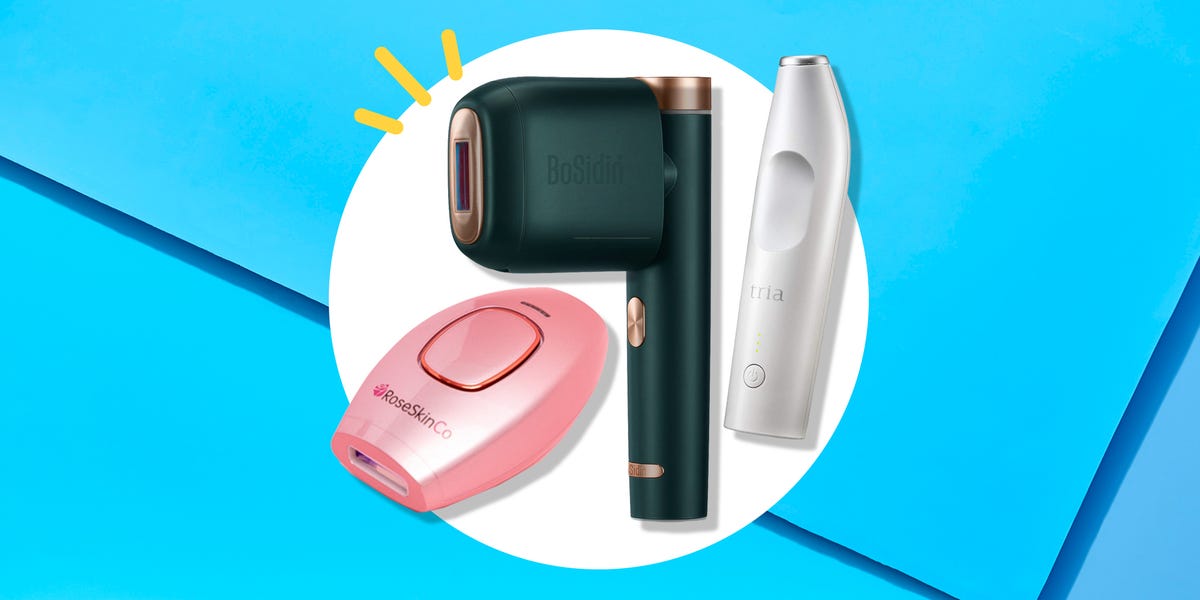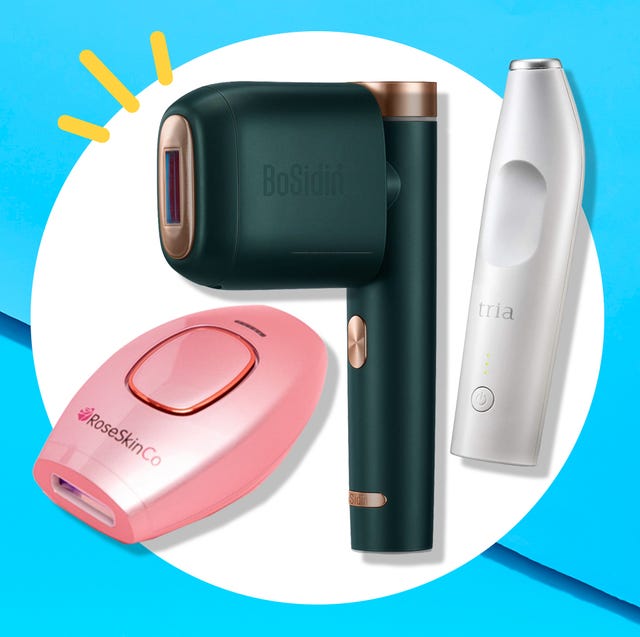 Courtesy
You clicked on this article knowing what it's about: hair removal. That said, let's establish up front that body hair is totally natural, beautiful, and healthy.
If you do prefer hair-free armpits, legs, or arms, you're probably very familiar with the pain and time-consuming upkeep of shaving, waxing, or threading. That's precisely why the latest hair-removal method on the market has gained a serious cult following for its longer-lasting results: laser hair removal.
Going to a spa or dermatologist to get laser hair removal treatments can be seriously pricey, which is why people are opting for at-home lasers, many of which can even be under $100. But, how exactly do they work? Most at-home laser hair removal devices use IPL (intense pulsed light). Dermatologist Dr. Bertha Baum, DO, explained to me that IPL works by directing light at the pigment in the hair follicle. The light from IPL destroys the follicle's root, stopping its regrowth.
And, all of the IPL devices on the list use the same technology that professional and medical-grade devices use. However, dermatologist Dr. Joshua Zeichner, MD clarifies that there is a major difference. "At-home lasers use lower energies to make them safe for consumers to use," he says. Zeichner also makes it very clear that like any other beauty product, laser hair removal isn't for everyone—success is dependent upon many factors, like how thick or coarse your hair is.
And, just as is the case with salon laser hair removal, it's important to practice patience—this isn't a "one and done" situation. Once you choose your device, know that it can take some time to see results. Though you'll of course want to refer to the specific instructions on your device, Baum recommends using the laser weekly for anywhere from four to 10 weeks. She advises that if you have particularly sensitive skin, you may want to use the device just once a month. Either way, she notes that you should start seeing results in the form of thinning hair after just your first four treatments.
See below for the 17 best hair removal devices in 2022 for every skin type and body part, according to customer reviews.
Advertisement – Continue Reading Below
1
Best Overall Laser Hair Remover
IPL Hair Removal
The Braun laser hair removal device uses IPL with the goal of permanent hair reduction. After just four weeks of use, it'll supposedly remove all unwanted hair. Not only is it FDA-cleared for safety, it's also the number one best-selling laser hair removal device on Amazon.

Rave Review: "I suffer from PCOS and excessive hair due to hormonal imbalances, including facial hair. I got this because I was tired of waxing, plucking, and shaving every day. A month in, I have already seen a significant reduction in the hair on my chin and neck. This has been 1000 percent worth it." —Cassandra, amazon.com
2
Best Affordable Laser Hair Remover
Permanent Hair Removal Machine
IMENE's device is smaller compared to others, which makes it perfect for more targeted hair removal for the face, armpits, and the delicate contours of the bikini area. At under $90, it's a total bargain—it even comes with sunglasses to protect your eyes from the laser light.
Rave Review: "I was afraid this was going to hurt, but it actually hurts so much less than waxing. I've been using it on my armpits and bikini area and will never go back to waxing ever again!" —Michelle, amazon.com
3
Best Laser Hair Remover For Dark Hair
Hair Removal Laser 4X
Reviewers rave that this FDA-approved device delivers the very same (and, sometimes even better!) results than what you'd get at a derm or med spa. The most exciting reviews come from those with darker hair—Tria's laser works to treat pigment in the hair follicle in addition to removing hair. That said, the high power of this laser means those with a lower pain tolerance should probably stear clear.

Rave Review: "I've had dark facial hair since I was young. I tried this and the darkness is gone. I don't even think about my facial hair anymore. I've started using it on my underarms as well, and have seen great results." —centralvt, amazon.com
4
Best Painless Laser Hair Remover
Painless Permanent Hair Removal Device
BoSidin's device has an amazing precision head that can rotate 180 degrees in both directions, which makes it super easy to get into every unique contour of your body. But, the best part? Reviewers rave about it being way less painful than most hair removers on the market.
Rave Review: "This is super easy to use, and it doesn't hurt at all! I have used it three times and I can already tell my hair is growing slower." —Mariah, amazon.com
5
Best Laser Hair Remover For First-Timers
IPL Hair Removal
Thanks to the five-level system that starts out very gentle, Cosbeauty's IPL hair removal tool is great for first-time users who want a sense of control over the laser strength. Because it's gentle, it's definitely better suited for those with thinner hair.
Rave Review: "It's comfortable to hold, easy to control, and totally painless on my lower legs. I started slowly to make sure it doesn't irritate my skin, and so far I'm impressed." —Jokemon, amazon.com
6
Best Ergonomically-Designed Laser Hair Remover
Permanent Light Hair Remover Device
The ergonomic design on the GOZYE pocket-sized device is meant to help you comfortably angle the device toward any hard-to-reach areas, such as in the armpit, bikini area, or behind the legs. For under $100, the no-frills device is sleek and easy to operate.
Rave Review: "I used to get laser hair removal and paid hundreds of dollars for multiple sessions at a med spa, so it's great to have a device that is much more affordable and convenient to use at home. I've used it for two months and have noticed a reduction in my hair, which is great!" —Dennis, amazon.com
7
Best Laser Hair Remover For Large Areas
Permanent Cordless Hair Removal Device
Sensica's FDA-cleared hair removal device is ideal if you're looking to remove hair from larger areas on the body like your arms or legs and possibly also armpits. The larger laser makes the process way faster and more efficient.

Rave Review: "It's now been three weeks, and I haven't had any armpit hair growth! It used to grow back in a day or two of shaving. My leg hairs also have not grown back after three weeks." —Debb, amazon.com
8
Best Unlimited Flash Laser Hair Remover
At-Home Permanent Hair Removal
While some laser hair removal devices require cartridges that come pre-loaded with light pulses/flashes, Silk'n Infinity's device doesn't. Translation? It's not going to be the fastest solution, but you'll never have to purchase refill cartridges, so feel free to use this as much as you'd like, as often as you'd like (safely, of course!).
Rave Review: "I have dark skin with dark coarse hair. I didn't think that this could work, and I'd have a beard I was doomed to shave for eternity. But as weeks and treatments progressed I have noticed hairs growing back thinner and slower. This works great. If you have the patience it will pay off in the long-run." —R.M., amazon.com
9
Best Cooling Laser Hair Remover
Painless Ice-Cooling IPL Laser Hair Removal
Specifically made for those with lower pain tolerances, this hair removal device cools the skin as you glide it across your skin to decrease, or even eliminate, pain as you laser away hair. And even if you have a high pain tolerance, the cooling is super soothing.
Rave Review: "I have very sensitive skin, but this little tool is surprisingly comforting and easy to use. No redness on my arms and it removes hair well. Definitely recommend it!" —ben.l, amazon.com
10
Best Laser Hair Remover With Interchangeable Heads
IPL Hair Removal
Those aiming to remove hair from areas large and small will love that Veme's device comes with two interchangeable heads. One features a larger laser you'll love using on your legs, and the other tiny one is perfect for areas you want to prioritize precision, like on your face.
Rave Review: "I love the attachments for the face. It helps concentrate the laser to areas like my chin. The device was easy to set up and use, too." —Heidi Austin, amazon.com
11
Best Laser Hair Remover Gift
OG IPL Hair Removal Handset
Reviewers rave that RoseSkinCo's IPL device is perfect for achieving hair-free pits and legs. For $130, it's one of the more affordable options on this list. That combined with the gorgeous look of the device makes this an awesome gift for the person in your life who keeps talking about how badly they want to get laser treatments.
Rave Review: "I bought this product out of desperation and did NOT think it would work. I was WRONG! After three weeks, I have several large patches of skin on my legs with no regrowth! It's amazing!" —Lindie H., roseskinco.com
12
Best Laser Hair Remover For The Bikini Line
Sapphire Ice Laser Hair Removal
INNZA's luxe hair remover is built with a literal sapphire crystal ice compress designed to keep your skin cool. You can manually select different modes to choose how wide or small you want the laser to be, making this chic, cooling remover perfect for the unique contours of your bikini area. It comes with laser-proof sunnies, too.
Rave Review: "It's absolutely painless and I'm already noticing less hair growth on my face, armpits, bikini line, arms, and back so far. A must-have for anyone who wants laser hair removal for a fraction of the prices at the spa. My new favorite toy."—Bubajuja, amazon.com
13
Best Laser Hair Remover For Travel
Express IPL Laser Hair Removal System
Silk'n's 'express' laser hair remover option is the perfect pocket-sized device to throw in your purse. It's not a quick solution, but a great way to slowly reduce hair or as a maintenance tool. Who wants to mess with razors on a beach vaca, anyway?
Rave Review: "I love the size, ease of use, and durability. After three months, I'm seeing a serious reduction in hair" —kim, amazon.com
14
Best Laser Remover For Precision
Hair Removal Laser Precision
If you want to use your laser hair removal device to hit smaller areas like in between your eyebrows, Tria's precision laser device is perfect for you. It has a one inch-wide head that takes only about a month to start working.
Rave Review: "I've been using this now for about six weeks, and half of my chin/lip hair is gone!!! I have PCOS and this tool has worked wonders! I've used other IPL treatments in the past, but nothing compares to this." —Kandra Koetje, amazon.com
15
Best Smart Laser Hair Remover
Pure IPL Intelligent Hair Removal
FDA-cleared, SmoothSkin's Pure system is great for anyone who wants something that's easy to use and doesn't require a lot of manual work or tinkering with buttons/various features. There are just two buttons: one that detects hair follicles to zap them, and the "feather" button for sensitive skin.
Rave Review: "I've been using this for three weeks now. It's so easy to use. Just push the main button and a flash of intense light comes up. After two weeks, the hair on my armpits and upper lips hasn't come back." —Val, amazon.com
16
Best Laser And Razor Hair Remover Kit
Silk-Expert Permanent IPL
It's no secret that at-home laser hair removal can take some time to work. So, if you have any areas that need instant removal, this IPL hair removal device + razor set from Gillette will save you in a pinch.
Rave Review: "This has been a game changer. I just returned from a week at the beach, and its results improved my vacation significantly—this is a quality-of-life improver. Yes, I still have to shave, BUT the hair is not as coarse and shaving is MUCH less tedious as the hair is sparser. I also have hardly any ingrown hairs anymore." —bethany, amazon.com
17
Best Laser Hair Remover For All Skin Tones
TOUCH Permanent Hair Reduction System
Iluminage's FDA-cleared TOUCH permanent hair reduction system combines both Intense Pulsed Light and Radio Frequency energies to remove hair. The brand ensured that the clinical studies were done on an inclusive range of skin tones to ensure the device would be both safe and effective across for all.
Rave Review: "I've been using this for five weeks and am very pleased with the results. My leg hair is growing so slowly and is so sparse that I can shave once a week whereas before I was shaving daily. Even then, very little hair is left to shave. I am medium-medium/dark in coloring and this is working great on me." —happyinheels77, nordstrom.com
This content is created and maintained by a third party, and imported onto this page to help users provide their email addresses. You may be able to find more information about this and similar content at piano.io
Advertisement – Continue Reading Below
https://www.womenshealthmag.com/beauty/g38828659/best-laser-hair-removal-devices/