And Just Like That's Makeup Artist Reveals Every Beauty Product
9 min read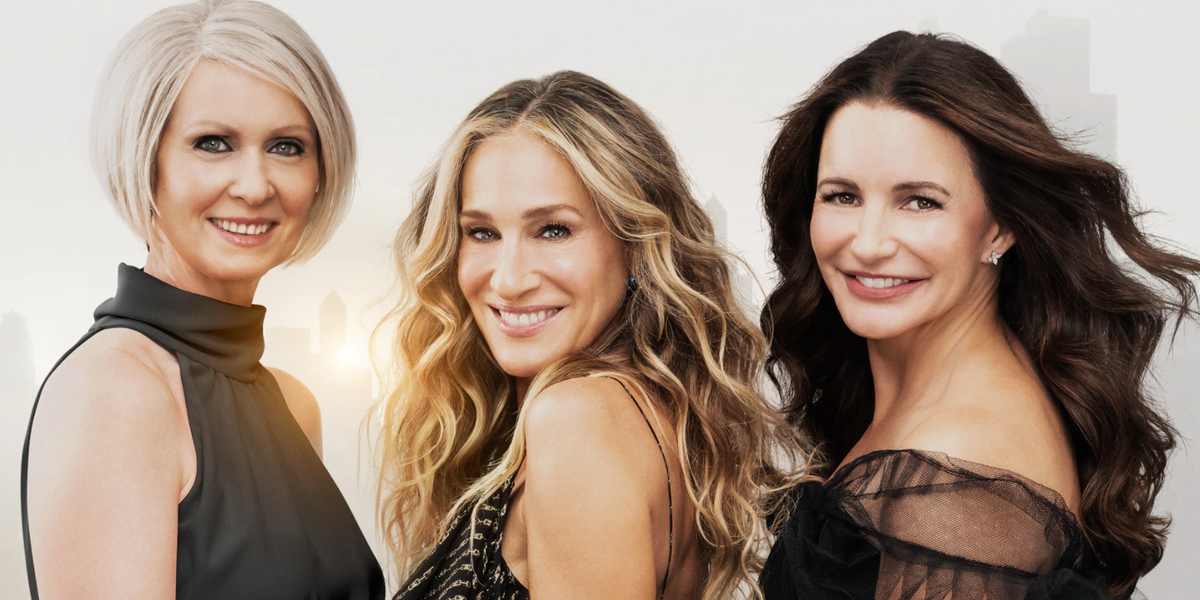 Fashion has always been the fifth lead on Sex and the City. The outfits worn by Carrie, Charlotte, Miranda, and Samantha have reached icon status since the show premiered in 1998, so it's no wonder the hair and makeup looks were often overlooked. But in And Just Like That…, the 10-episode reboot of Sex and the City that is set to premiere on HBO Max tomorrow (December 9), beauty finally gets a starring role.
"I think that the makeup, hair, and costumes all work together to be a character on the show," says Emmy-winning Sherri Berman Laurence, the makeup department head for And Just Like That… (you may have seen her work recently on hit shows like Pose, The Politician, and Fosse/Verdon). "If one area fails, then none of it works. As a superfan of Sex and the City, there was a lot of pressure to make everyone stand out in their own way. I think we accomplished that."
BAZAAR.com sits down exclusively with Berman Laurence to learn more about the specific makeup products used on each character, celebrating aging and diverse skin tones, and what's changed the most beauty-wise since the original show premiered more than 20 years ago.
---
What do you love most about your job?
I love to create characters. Whether it's a glamorous look or a special effect or a no-makeup look, it all has its place in storytelling. Nothing makes me happier than for an actor to sit in my chair and walk out with confidence in the way they look.
Let's talk And Just Like That…—how do you begin to craft looks for so many different characters?
I actually love the process of beginning something new and creating characters from the start. I have been working for the last several years on projects that have had very large casts with lots of women as well, so I'm kind of used to the challenge.
This content is imported from YouTube. You may be able to find the same content in another format, or you may be able to find more information, at their web site.
What is your process preproduction? How do you storyboard?
My process when prepping a show, especially a new one, is to first break down the scripts and characters, and create inspiration boards of what I think the character should be, and then it evolves from there. There are lots of talks with creators, showrunners, costume designers, the actors themselves, and directors to get a sense of what they see for the characters as well. We do camera tests before filming begins to see what each character will look like on camera, what works and what doesn't, and go from there.
How about during the show? How do you handle doling out the work when there are so many female leads?
I have incredible teams that work with me, like my key makeup artist, Bridget Ritzinger, as well as Jen Suarez and Lauzanne Nel. I have complete trust in all of them to bring to life the vision of each character.
Sarah Jessica Parker's personal makeup artist is Elaine Offers Woulard; Cynthia Nixon's is Kerrie Plant-Price; and Kristin Davis's is Matin Maulawizada—they have done their makeup for years. I don't have much to do with their looks, because their artists discuss that with them personally. I thought a lot about each character and the actors themselves, like Nicole Ari Parker, Sarita Choudhury, Sara Ramirez, and Karen Pittman, on who would be a good fit as their makeup artist. I am heavily involved in the beginning, and then the artists take it from there. I am also involved when it comes to special looks on a character. The makeup always evolves over a period of time, and it's fun to collaborate with the actors as well.
How big is your staff?
It depends on the day! Outside of the three personal makeup artists, we would have anywhere from two to 20 makeup artists at a time.
How would you describe Carrie's makeup?
Elaine Offers always does such an incredible job on SJP. It was so much fun sharing a trailer with her and sharing our latest favorite products together. Elaine's approach to her look was fresh-faced and to make the makeup look easy. Some of her favorite products were Koh Gen Do Moisture Foundation, Tom Ford Shade and Illuminate contour, cream blushes from Stila, lip and cheek sticks from Milk Makeup, and the Merit Cream Blush in Cheeky.
What about Charlotte?
Charlotte's look is very Upper East Side and expensive. Her look remains very polished. Matin Maulawizada said some of his favorite products to use were Retrouvé Eye Concentrate to smooth and beautify the eye area. For color, he loves the Japanese brand Suqqu, as well as their cream foundation, Charlotte Tilbury blushes, and Kosas lipstick in the shade Rosewater.
And Miranda?
Miranda is embracing a new sense of self and pays attention to her skin and makeup. Some of Kerrie Plant-Price's favorites were Aleph Beauty Concealer/Foundation 1.5 and 2.0, Aleph Beauty Prep/Finish Powder, AKT Therapy Elemental Sun Balm, Pat McGrath eye shadows, and Dior Addict Stellar Gloss Balm Lip Gloss.
Let's talk about the new characters, like Lisa Todd Wexley, played by Nicole Ari Parker.
I did Nicole's makeup, and it was always a pleasure, because everything looks good on her. Her character is very upper class, and her makeup was always done. It was all about her skin and that creamy beautiful texture. It was especially fun to do her more glamorous looks throughout the season.
Some of my favorite products that I used were Tom Ford Glow Bronzer in Gold Dust, Anastasia Beverly Hills Soft Glam Palette, and Lashify eyelash system was also used on her to give a natural lash that popped. I also used Charlotte Tilbury lip liner in Hot Gossip with Marc Jacobs lip gloss in French Tickler. Another favorite lip was Fenty Gloss Bomb in Hot Cherry.
How about Seema Patel, played by Sarita Choudhury?
I absolutely loved doing Sarita's makeup. Seema is a powerhouse boss and always had a very strong look. Sarita loves Old Hollywood matte lips and strong winged liner. She also loved the Bianca Jagger references that we discussed. We would play with matte neutral eye shadows with strong liners and a matte deep red lip or a matte nude lip with darker, smokier eyes. We also focused on the lashes using Lashify.
Some of my favorite products to use were Patrick Ta Creme Contour and Powder Duo in She's Chiseled, Inglot Gel Liner, Tom Ford Eyeshadow Quad in Mink Mirage, Tom Ford Lip Lacquer Luxe in Habitual Matte, and Charlotte Tilbury lipstick in Confession with Patrick Ta lip liner in She's So Strong.
Tell us about the look for Dr. Nya Wallace, played by Karen Pittman.
Karen is supposed to be a more earthy, natural, beautiful woman. She is a professor and has a bohemian style. Her makeup is definitely all about the skin and making sure it looks as if she isn't wearing makeup. Her going-out looks with her husband were fun for Bridget Ritzinger, because she got to do a little more lip and eye! Bridget used Fenty foundation, Charlotte Tilbury Bronzer, and Pat McGrath concealer to accent her amazing skin. We also used Tom Ford Eyeshadow Quad in Cognac Rose and Tom Ford Sheer Cheek Duo in Lissome for that flushed glow. Her lips were tinted with Charlotte Tilbury Tinted Love lip and cheek stains.
And, finally, Che Diaz, played by Sara Ramirez.
Che's look was very natural. They also have several custom-made tattoos that we used every day. Sara was very involved in designing them, and we worked together to figure out the placement for each of them. Each tattoo had a lot of meaning to Sara, so a lot of work and planning went into every step! For their natural-skin look, Lauzanne Nel's go-to favorites were Dior Airflash Foundation and NARS Radiant Creamy Color Corrector in Medium topped with Dior Backstage Face and Body Powder.
This content is imported from Instagram. You may be able to find the same content in another format, or you may be able to find more information, at their web site.
How have these looks changed from the original HBO show?
I think the answer to that question would be that the original show took place from 1998 to 2004, so makeup trends have definitely changed. Back then, thin eyebrows, contrasting darker lip liners, and more blush were in. Now, eyebrows are fuller, liners complement the lip colors, and blush is more of a natural flush. Bronzing has also taken a more subtle approach.
You have the privilege of working with all different skin tones on this show. How great was it to be able to embrace the beauty of different characters on the show?
I love working with different skin tones, and I have been able to do a lot more of that over the last several shows that I have worked on. The main reason I love the opportunity to do this is because all women should be represented in the most beautiful and empowering way. We are finally getting to a place where more women of color are being represented in mainstream television and film, and it is long overdue.
This show also celebrates aging. How did you celebrate the women's ages while also enhancing their looks? And what products did you use?
I love that the show celebrates aging and the beauty in it. There are several things you can do to enhance the natural beauty of an older woman. It's all about glowy and dewy skin. I love using the Tom Ford Illuminating Foundation to give the skin a natural, creamy look. Also, enhancing the lips in a natural way is a must. Creating different shapes on the eyes, as well as using lashes, help in lifting and defining the eyes. My favorite lashes are the Lashify system. They can create a natural look, as well as a dramatic look.
This content is created and maintained by a third party, and imported onto this page to help users provide their email addresses. You may be able to find more information about this and similar content at piano.io

https://www.harpersbazaar.com/beauty/makeup/a38461450/and-just-like-that-sex-and-the-city-makeup-artist-beauty-details/