Antoni Porowski on His Favorite Skincare Products and Comfort Foods
6 min read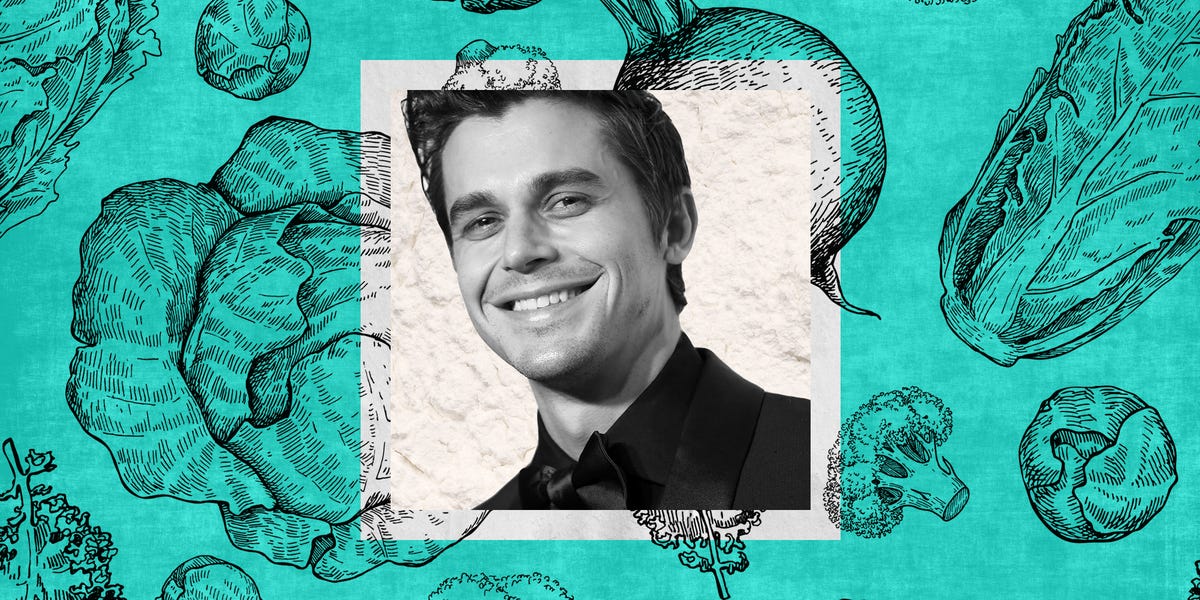 In the ultimate quest for inner beauty and outer glow, Marie Claire asks our favorite trailblazers to share intel on finding balance in their busy lives. Read it all here, in Beauty Inside & Out.
---
For Antoni Porowski, self-care is a delicate balance that includes smelling delicious, lots of supplements, and eating decadently (when the mood strikes). In honor of the release of his new cookbook, Let's Do Dinner—which he penned with co-author Mindy Fox—Porowski chatted with Marie Claire about all things wellness, and how sometimes it can be as simple as cooking at home.
"Nothing brings me a greater sense of joy, or purpose, than when I'm able to actually make something in my own kitchen," the 37-year-old explains. But since his busy schedule often keeps him from being able to whip up five-course meals, he's had to find other ways to stay centered. Ahead, the Queer Eye host shares the aromatherapy scents that help him feel calm, the recipe that he pairs with reality TV, and the toothbrush that was a major oral care game-changer.
Inner Beauty
Phone calls and FaceTimes
"Such a good form of self care, for me, is just connecting to other people—my sister, my father, or my best friend, Reema. Because if I don't connect with other people, I'm stuck in my head and I start to think I'm the only one going through whatever it is that I'm going through. It just puts everything in perspective."
Headspace or YouTube/TheHonestGuys
"I have to credit my boyfriend with really getting me on the meditation train. I always thought it was going to dull me, but it actually helps me be more present during the day."
LivOn ​​Lypo–Spheric Vitamin C Supplements
"I love my supplements. It's such a fun ritual in the morning before I go to the gym. This vitamin C is non-water soluble. It doesn't taste too bad—it's like a weird, liquidy gummy that doesn't really have any flavor."
"It boosts your serotonin levels. So if you don't want to have alcohol as your evening drink, but you want something that makes you feel good and chill and relaxed with no weird come-down or caffeine or CBD, [this works]. And it's flavored with a little bit of monk fruit—usually I really don't like monk fruit, but I like it in this formula."
The Pilates Class by Jacqui Kingswell
"You're not exhausted by the end, but you just feel like you're in touch with your body."
Tata Harper Aromatherapy Rollerballs
"Scents are very important to me. Tata Harper has a scented oil for stress—I roll it into my hands, smack my hands together to activate the scent, and then rub my earlobes and hover over my face with the scent. It immediately calms me down."
Outer Glow
Mistral Body Wash
"The teakwood scent weirdly reminds me of Abercrombie & Fitch stores, when I was in junior high trying to convince my parents to buy me overpriced muscle tees. It's very woody and smokey, and there's something really nice about that especially when fall starts to hit."
Biologique Recherche P50V 1970 Toner
"It has a little bit of Worcestershire in it, I think, so it gives you a bit of a burning sensation. It opens up my pores, and I'm telling you, whatever I put onto my skin, because of that toner, it just sucks it right in."
Fortuna Skin Rinascita Delle Olive Replenishing Balm
"I was convinced that my skin was going to break out when I first tried it—because my skin's pretty sensitive—but it didn't. It smells amazing, and it feels super luxe. It has that sharp pepperiness of olive oil when you're applying it, and a tiny bit goes a really long way."
Marashi Oral Health Sonic Toothbrush
"A lot of the electric toothbrushes I've tried before tend to vibrate a lot. This one just has this buzzing pulse. It removes so much of the buildup from the day (even after I have a lot of cheese). The battery lasts forever. It's beautiful. It's a little smaller than most electric toothbrushes. It makes me actually enjoy brushing my teeth."
Tatcha Luminous Dewy Skin Mist
"It's a little salty. It gives you that vibe like you just walked out of the ocean. Your skin feels nice and tight and mineral-y."
Recipe for Success: Croque Signore
One of my very favorite things ever growing up was a Croque Madame or a Croque Monsieur; it's available at pretty much every single French bistro. It's just the most decadent sandwich—like a weird inverted grilled cheese that's stuffed with all kinds of delicious things. So [my co-author and I] wanted to play around with [that concept].
[The recipe] was actually one of those happy mistakes when it was a Saturday morning, and I didn't have any ham. But I did have mortadella. I'm obsessed with mortadella. As a kid, I wasn't allowed to have bologna at home—we were a Polish household—so everything was all ham and cold cuts. When I discovered mortadella for the first time—either with olives or with pistachios—I just thought it was the bee's knees.
For me, [the Croque Signore] is sheer joy. Having a sandwich for dinner? That's the stuff we get to do as grownups. This is something that I make for myself solo, more than anything. It's my special treat. [I make it] midweek when I'm just tired and ready for it to feel like it's the weekend. I sit down [to eat it] and watch some Love Island UK or whichever new Real Housewives episode is out. [Laughs.]
1/4 cup unsalted shelled pistachios
Béchamel
4 tablespoons (1/2 stick) unsalted butter
1/4 cup all-purpose flour
1 ½ cups whole milk
1 tablespoon Dijon mustard
1/4 teaspoon kosher salt
Freshly ground black pepper
For Assembly
8 (1/2-inch-thick) slices rustic bread
6 ounces thinly sliced mortadella
8 ounces thinly sliced provolone cheese
1/3 cup chopped pepperoncini, plus more for serving
1/3 cup thinly sliced fresh basil leaves (optional, but I love)
1 teaspoon grated lemon zest
Make the Croque Signore
Heat the oven to 425°F. Line a baking sheet with parchment paper.
Spread the nuts on a small baking sheet and bake until fragrant and lightly toasted, about 5 minutes. Let cool, then coarsely chop.
For the béchamel: Melt the butter in a medium saucepan over medium heat. Add the flour and cook, stirring, until foamy and pale, about 3 minutes. Add the milk 1/4 cup at a time, stirring constantly, until combined and smooth. Then continue cooking, stirring occasionally, until the sauce is thickened, about 4 minutes. Remove from the heat and whisk in the mustard, salt, and a generous grinding of pepper.
To assemble: Arrange the bread on a work surface and spread the slices evenly with the béchamel (about 3 tablespoons per slice). Arrange 4 of the slices on the prepared baking sheet, béchamel side up. Top with the mortadella. Continue building the sandwiches, using half of the cheese and all of the pepperoncini, pistachios, basil, if using, and lemon zest, then top with the remaining bread, béchamel side up. Top the sandwiches with the remaining cheese and season with pepper.
Bake the sandwiches until the tops are bubbling and golden, 12 to 15 minutes. Serve with extra pepperoncini alongside.
---
Recipe excerpted from ANTONI: LET'S DO DINNER © 2021 by Antoni Porowski with Mindy Fox. Photography © 2021 by Paul Brissman. Reproduced by permission of Mariner Books, an imprint of HarperCollins Publishers. All rights reserved.
This content is created and maintained by a third party, and imported onto this page to help users provide their email addresses. You may be able to find more information about this and similar content at piano.io
https://www.marieclaire.com/beauty/a37624165/antoni-porowski-beauty-health-recommendations/