Brides Reveal What They Wish They Knew When Wedding Planning, Spark Debate
3 min read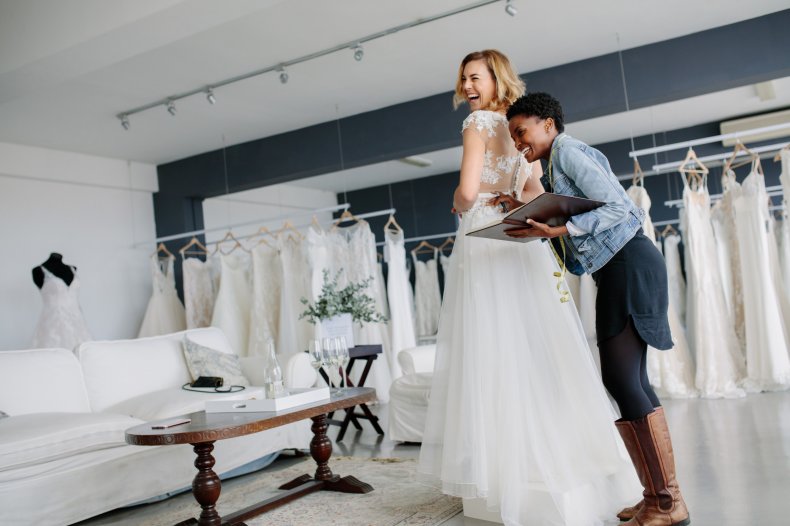 Most newly weds would agree that planning a wedding is not the easiest of tasks and at times can be stressful. So it's only natural that brides-to-be often turn to the internet to seek guidance. One woman recently asked users on London-based internet forum Mumsnet for wedding planning advice after sharing that her wedding is coming up in seven months' time.
Under the username Honkytok01, the OP (Original Poster) captioned the post: "What do you wish you'd known, when planning your wedding?" and shared it on May 12. Since then, the post has generated a total of 110 replies.
"I've got 7 months to plan my wedding and I'm already getting lots of comments about how much we have to do in a short space of time," the bride-to-be wrote.
The OP also shared that the recently engaged couple had already booked the venue, however, apart from that, they still have "everything else to organize."
According to information published by The Wedding Report, there were 1,934,982 weddings in the United States in 2021. The statistics also revealed that the average wedding cost in the U.S. in 2021 was $27,063, a significant jump compared with the last five years. For reference, in 2019, the average wedding cost was estimated to be around $24,700.
Near the end of the post, the bride-to-be asked for wedding planning advice from other Mumsnet users.
"Depends [on] what your expectations are," one user wrote.
"…don't waste money on favours and tiny details. No one remembers or notices," another user suggested.
"Have a free bar if you can manage," they added.
Another commenter pointed out that seven months is "plenty of time if your venue is booked." The user also suggested looking for a wedding dress soon, because the bridal store might need to order it in. "…although [to be honest], I ended up getting one from the high street because I didn't find anything I liked in bridal shops."
"…make sure guests have enough to eat & drink, do what you want not what anyone else expects," the user summarized.
Another user also offered advice on the guests: "Don't presume that relatives from different sides will mix—you need to give them a little push," they suggested.
One commenter also provided a tip for having a wedding with children included. "…give them an age appropriate play pack to do so don't get bored (colouring/little table top game etc)."
"…even arrange for a [children's] entertainer to come and take the kids to another area whilst the speeches are taking place so they don't get bored," they added.
The same user also suggested getting a videographer if the budget is flexible, as "years later you will want to reminisce and pictures just don't cut it."
In addition, the commenter offered advice on seating arrangements, suggesting not to "get caught up with who should be on the top table."
"If best man wants to sit with his partner, let him. If you just want your bridesmaids/ushers etc. on your table, do so and have parents host their own relatives/friends table," the user explained.
In a conversation with Brides.com, wedding planners revealed that, above all, couples should communicate clearly and discuss a realistic budget prior to starting to plan a wedding. They also advised focusing on the planning of the ceremony just as much as on the reception.
Mindy Weiss, owner of Mindy Weiss Party Consultants shared: "I tell my clients to put more energy into the vows, the actual ceremony, and how to make it unique and memorable."
Weddings are a common topic of conversation on the internet. Newsweek recently reported on how a bride was dragged for expecting her nephew to choose her wedding over his vacation. Newsweek also covered a story of how a woman shared that she is planning to spend $18 on a wedding gift for her best friend. And earlier this month, a TikTok video went viral after a bride stopped her wedding after realizing she was missing half of her wedding dress.
https://www.newsweek.com/brides-reveal-what-they-wish-they-knew-wedding-planning-1708078