Canopy is using collaborations to market humidifiers as a beauty product
4 min read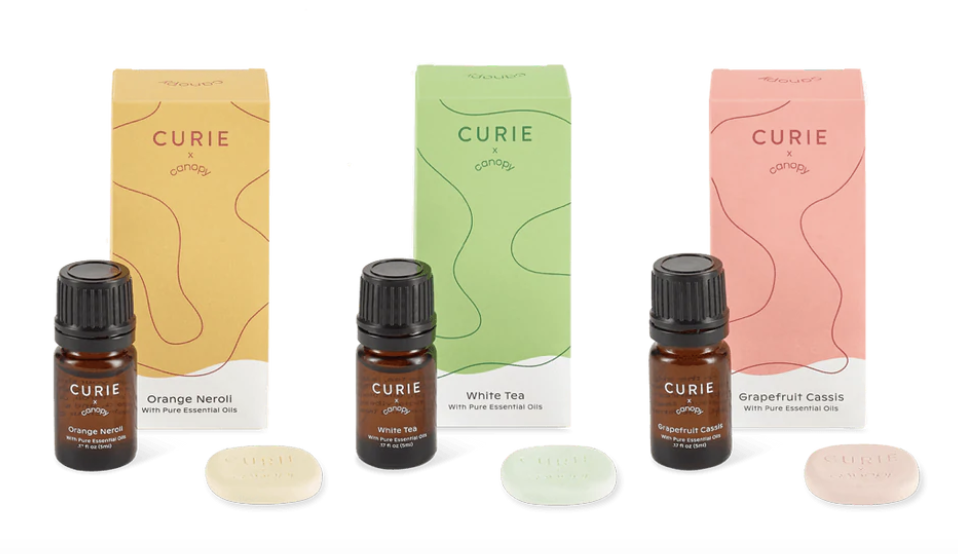 All products featured on Glossy Pop are independently selected by our editorial team. However, when you buy something through our retail links, we may earn an affiliate commission.
Though "air care" brand Canopy launched with a humidifier in October 2020, it aspires to be viewed as a beauty brand. Since its inception, Canopy has worked with dermatologist Dr. Dendy Engelman, who has over 28,000 followers on Instagram, to position its product as a skin care must-have.
Canopy is not alone in positioning clean, humidified air as a wellness essential. "Air care" has become a category in itself.
In February, the brand tapped Drybar founder Alli Webb as its new president. That month, it also debuted at Sephora online, making it the first humidifier ever to be sold at the beauty retailer. It is also sold at beauty retailer Violet Grey.
When Webb connected with Canopy's founding team, her initial response was, "Why are you telling me about a humidifier?" she said.
"I had them when my kids were sick, and that was about it," she said. "But then, we really started talking about the beauty part of it. I spoke to Dr. Dendy, and it was really fascinating to [learn about] the optimal humidity level in your house and how great that is for your skin, hair and scalp."
In addition to securing strategic retail partnerships, Canopy is using partnerships with influencers and beauty and lifestyle brands to establish itself as a player in the beauty space. "The partnerships are a great way to raise brand awareness. If you already love [these] brands, and we've partnered with them, then you're gonna give [Canopy] a try,'" Webb said.
"Canopy is a really small company. We're less than 2-years-old, so we're still brand building. We want to partner with some brands on par with us, in terms of size and social awareness, and also some brands that are much, much bigger than us that can help catapult us," Webb said, speaking of future collaborations on which she declined to elaborate.
On Tuesday, Canopy launched a scent collaboration of three essential oils with Curie, a personal care brand best known for its deodorants. For a brand like Curie, the partnership provided an opportunity to delve further into the aroma element that is inherently part of a category like deodorant.
"When I started Curie, I didn't want our scents to be an afterthought," said Sarah Moret, founder and CEO of Curie. Now, those scents have become a hallmark of the brand, and vis-a-vis the collaboration with Canopy, and can also be purchased as essential oils. A set of three costs $40.
When Curie launched candles in its three signature scents — Orange Neroli, White Tea and Grapefruit Cassis — they sold out in 24 hours. "This showed us that Curie customers not only love our scents on their bodies, but they want to bring Curie into their homes as well," said Moret.
In September 2021, Canopy launched a collab with Lauryn Bosstick, the influencer and podcaster turned brand founder, via a custom humidifier and coordinating scents. It sold out in one week, but has since been restocked on Canopy's own site. "It was so much fun designing this humidifier and making it very TSC-esque," she said, referencing her brand, The Skinny Confidential. "We were all bored as shit with the sterile, ugly-ass, butthole-ugly humidifiers," she said. Bosstick has 1.1 million followers on Instagram, and has shared the collab with them. It was a boon to Canopy, which has a little over 26,000 followers.
A month later, Canopy released a collaboration of three essential oil blends with Prose, the custom hair-care brand. "We strive to offer all of our customers a luxurious experience across every touchpoint," said Carly Rappoport, director of communications at Prose. "We decided to partner with Canopy to bring consumers a spa sensation that would transcend them into their own at-home spa experience. We also wanted to provide consumers with the opportunity to experience Prose's signature scents in a new and innovative way."
For Prose, the collaboration also offered an opportunity to get creative about how and what can benefit the hair. "We know that hydration is incredibly important, when it comes to the health of hair, plus the colder weather months tend to lack moisture in the air," Rappoport said. "Our partnership with Canopy gave us the opportunity to educate consumers about the importance of hair health. Consumers were able to retain moisture in their homes, giving their hair more elasticity, less breakage and less tangles."
"[Humidifiers] are the new must-have tool beauty tool for women similar to how a Clarisonic was so many years ago," Webb said. "I'm really enjoying it. I haven't felt this energized about something in a long time."
How Canopy is using collaborations to market humidifiers as a beauty product