Carla Rockmore – TikTok Star
3 min read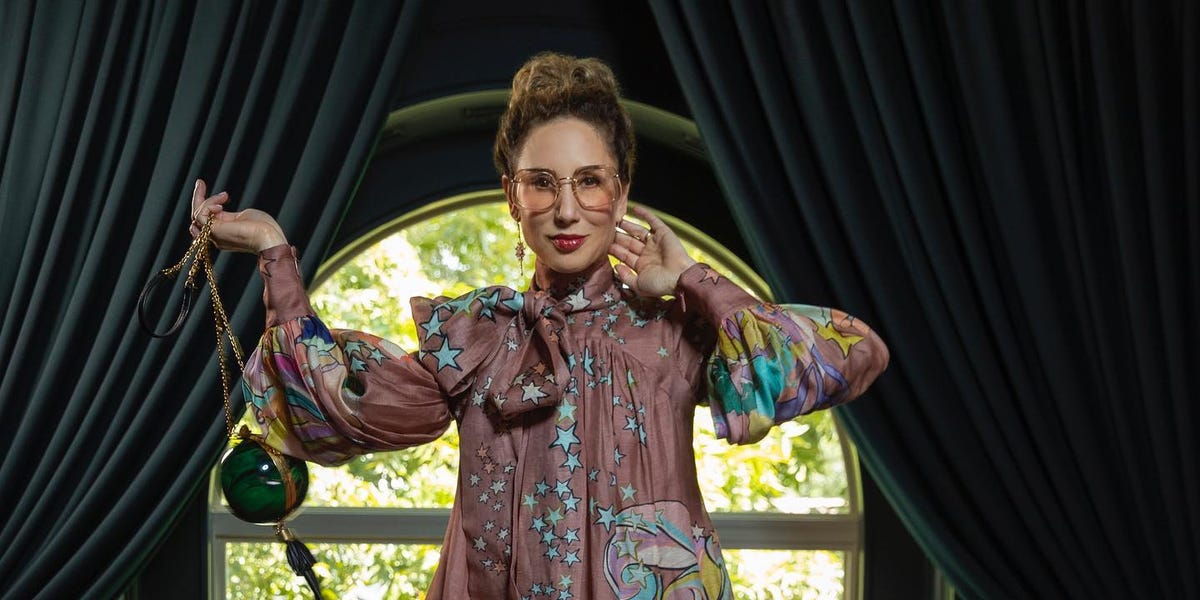 Carla Rockmore catapulted into the zeitgeist, seemingly overnight. But the influencer, who was deemed the "Carrie Bradshaw of TikTok," has a relationship with fashion that goes well beyond her fun styling videos on the buzzy app. Rockmore is a woman who wears a plethora of hats, both figuratively and literally. A tenured jewelry designer by trade, the social media star is a stylist, wife, and mother to two boys—but ultimately, she is someone who believes in the power of personal style. And she has 1.2 million followers hanging on her every word.
Rockmore explains that joining TikTok was far from intentional and was done on a whim at the height of the pandemic. "It wasn't truly a decision," she tells BAZAAR.com. "I thought [it] was a dance app. I was in Jaipur, India, developing my fine jewelry line. Upon return, the country went straight into lockdown. I watched Netflix for about two weeks and soon realized if I continued doing that, I might as well crawl into bed and shut the lights out. I need to be creative–especially in times of stress. The only thing I had in my house was my collection of beauties and baubles, a cellphone, and a 16-year-old son sequestered with me who taught me how to edit on iMovie. I started doing (hopefully) entertaining styling videos on YouTube. Nine months later, one of my kids put me on TikTok. I went from 91 followers to 250,000 in a week." The rest, as she says, is history.
The Dallas-based creative has since amassed more than 1.2 million followers, who come to her page for lighthearted videos and golden styling tips. With her enviable, two-story closet as the backdrop, Rockmore covers a myriad of topics and appeals to a range of audiences. From history lessons on the color black to tutorials in styling fashion's most notable conundrums (think: how to mix metals and find a look for "weird weather"), there's a lot of good advice on offer. But the biggest takeaway from her content is that when it comes to personal style, there's really no right or wrong answer, so long as it makes you feel good.
"I give everybody permission to buy the same 10 pairs of pants in different colors and fabrics if they make you happy and give you confidence," Rockmore says on why she believes core pieces differ for everyone. "Clothing has to serve you—not the other way around. If you don't cultivate your own style and define what your own essentials are, you become a hanger for somebody else's ideas."
As for her own sense of style, the 54-year-old takes a similar no-holds-barred approach. Between her exploration of bold color palettes and ability to rock statement pieces on a Tuesday—like a pair of over-the-knee gold metallic boots—Rockmore's core aesthetic is varied at best. "For me, inspiration can come from anywhere. From wallpaper in a restaurant bathroom to a vintage shop to a costume jewelry collection."
These days, her shopping cart is filled with Marni accessories and opulent sundresses from Johanna Ortiz and Cecilie Bahnsen. She cites famous maximalist Iris Apfel and the ever-iconic Diana Vreeland as her style icons. "The trends and the shows and the business of it are exciting, for sure, but even more exciting is that as I age, my personal style continues to evolve," the designer says. "I refuse to be put in a box. Sometimes, I wake up one morning and feel the need to dress in a very minimal aesthetic, and the next day go full on colors and ruffle. My relationship with fashion is all encompassing. It is my career, it is my hobby, it is the way I express myself without words."
This content is created and maintained by a third party, and imported onto this page to help users provide their email addresses. You may be able to find more information about this and similar content at piano.io

https://www.harpersbazaar.com/fashion/trends/a39703441/carla-rockmore-designer-interview/