Chanel N.1 de Chanel at Ulta Skincare, Makeup, Fragrance Review
3 min read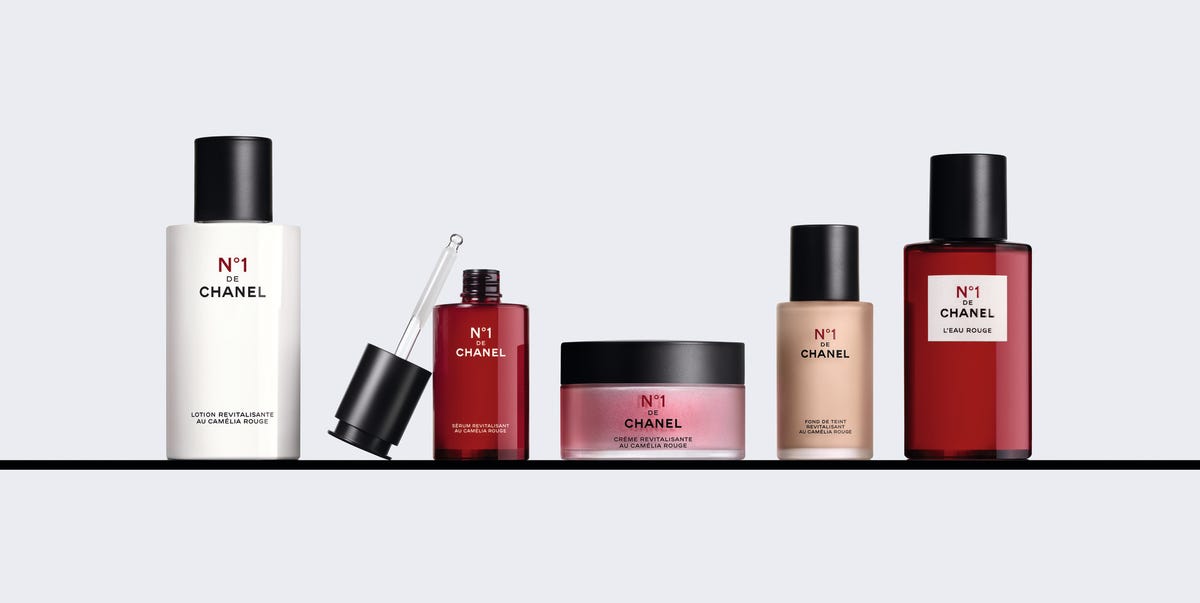 In 2022, clean beauty is about to get a whole lot more luxe. Chanel just announced a brand-new skincare, makeup, and fragrance brand called N°1 de Chanel, and it's all about naturally derived formulas, sustainable packaging, and ingredient transparency. But that's not all: For the first time, the nine new products and some cult classics from Chanel are available to shop at Ulta.
"N°1 de Chanel offers an innovative, global, and sustainable approach to beauty," the brand's release says. "This new line, with sensorial textures, preserves the radiance of youthful looking skin by supporting sources of vitality. At the heart of its innovative formulas lies the camellia, Gabrielle Chanel's emblematic flower."
Every product in this line—from the waterless powder-to-foam cleanser to the lightweight foundation—is infused with red camellia. The sustainably sourced flower is rich in antioxidants, so it helps defend youthful cells against the first signs of aging like loss of elasticity, according to the brand's research. These products are aimed at a younger demographic—we'd say about 18 to 30 years old—who are far more interested in health and wellness, but still crave luxury and results.
Each product contains up to a whopping 97 percent natural ingredients, with a majority derived from the red camellia flower. For example, the Revitalizing Serum contains 76 percent camellia-derived ingredients. Others, like the lip and cheek balm and foundation, are infused with hydrating red camellia oil. The packaging is all eco-friendly as well, thanks to refillable glass tubes, bio-based plastics, recyclable cardboard, and organic ink. This marks a major shift for the luxury brand's beauty line, though only the N°1 de Chanel products will carry this level of sustainable packaging (for now).
Speaking of the foundation, it's available in 20 shades at launch. It's considered a true makeup-skincare hybrid, and it leaves behind a satiny, glowy finish that's a touch lighter than the Chanel Les Beiges formula.
The innovative body mist will be a hit among fans of Chanel's fragrances. Perfumer Olivier Polge used a skincare-inspired base of camellia water and extract, then created a scent inspired by the flower, since it's naturally odorless. "I started out with a multitude of jasmine, orange blossom, and rose floral facets typical of the House, and then I combined them with sparkling red fruit notes to express the freshness of this fragrance mist," he says.
There are seven skincare products, two makeup-skincare hybrids, and the body mist at launch: Red Camellia Revitalizing Foundation (in 20 shades), Red Camellia Revitalizing Lip and Cheek Balm (in six shades), Red Camellia Revitalizing Serum-in-Mist, Red Camellia Revitalizing Lotion, Red Camellia Powder-to-Foam Cleanser, Red Camellia Revitalizing Eye Cream, Red Camellia Revitalizing Cream, Red Camellia Revitalizing Serum, and L'Eau Rouge Fragrance Mist. Prices range from $45 for the lip and cheek balm to $160 for the largest bottle of the serum—because even though N°1 de Chanel is available at Ulta, it's still Chanel.
This content is created and maintained by a third party, and imported onto this page to help users provide their email addresses. You may be able to find more information about this and similar content at piano.io
https://www.harpersbazaar.com/beauty/a38674843/chanel-n1-de-chanel-makeup-skincare-ulta-review/