When discussing our own wardrobe and style essentials, Coveteur staffers found their feelings could often be summed up with the phrase, "it's literally the best … white t-shirt, pair of jeans, drugstore find, etc." So, in our new series, fittingly titled Literally the Best, we're asking industry insiders to reveal the style essentials they turn to over and over again and simply can't live without.
The pull of fashion trends is undoubtedly strong. Despite our theoretical resolve, many still fall victim, myself included, to the it-item of the moment, forgoing our stylistic identity for tiny sunglasses, ultra low-rise pants, and bag-uettes. The same cannot be said of Harling Ross Anton. With each new ensemble she posts, Anton achieves renown as she pulls off an anomaly in fashion: wearing something in a manner you haven't seen a million times before.
Originally of Man Repeller fame, Anton (now a multi-hyphenate consultant dividing her time between various projects) says her style is almost compulsive in nature. She obsesses over ideas of specific items or vintage silhouettes until she can find a way to achieve the desired effect versus allowing herself to be buoyed by ever-changing trends. In doing so, her sense of style circumvents umbrella terms like "minimalist" or "bohemian." And, of course, that's all rooted in a few staple pieces like go-to New Balances and a classic trench. Below, Anton is breaking down the components that make up her fluid sense of style.
An admittedly difficult question, but how would you roughly describe your style? What are the outfits you're wearing on a day-to-day basis?
"For lack of a better answer, I tend to describe my style as 'dogged.' And by that I mean I get really granular ideas in my head about a particular outfit I want to create or vintage item I want to try and find, and the evolution of my aesthetic kind of extends from that impulse. My favorite things that I own or wear are those that feel really specific to me personally, whether it's something I know with conviction that I'm obsessed with regardless of trends or other influences, or something I dug up in an unexpected corner of the internet. Maybe that sounds vague, but I have a hard time applying more classic descriptors like 'maximalist' or 'feminine' or 'tailored' to my style unilaterally, partially because my style seems to evolve so often, but also because I generally like a little bit of everything! That said, the two constants, I think, are 1) I prioritize being comfortable and 2) I try to have a sense of style that feels uniquely my own, at least to me. I'm sure I'm not always successful at achieving the latter, but it's something I think about a lot. I would always rather have my taste be a little different, even if that means it's sometimes a little weird."
Whether it's style or fit or sustainability, what are the things you look for when purchasing a piece of clothing or an accessory?
"I have this joke with myself that almost all outfits expire by 3 AM. In other words, by that time of day, they very rarely look and feel like they did when you first put them on in the morning. They're more wrinkled, they've collected lint, they're a bit sweaty, they fit differently after a couple of meals, etcetera. But there are notable exceptions—once-in-a-blue moon outfits that stay excellent over the course of an entire day—and when I'm considering purchasing something new, I try to look for pieces that will cultivate these exceptions. It's not always easy to figure out before owning and regularly wearing something, but there are certain attributes I look for that tend to be contributors to this goal. Material is a big one. I'm a sucker for texture, fabrics that feel good against my body and don't wrinkle easily. A nice, crisp cotton is hard to beat in that respect. Ditto for a wool-cashmere blend. Fit is obviously important, too. Not just in the literal sense of 'does this fit the proportions of my body,' but also, does it fit comfortably throughout the day and retain its intended shape as I'm moving and sitting and breathing?"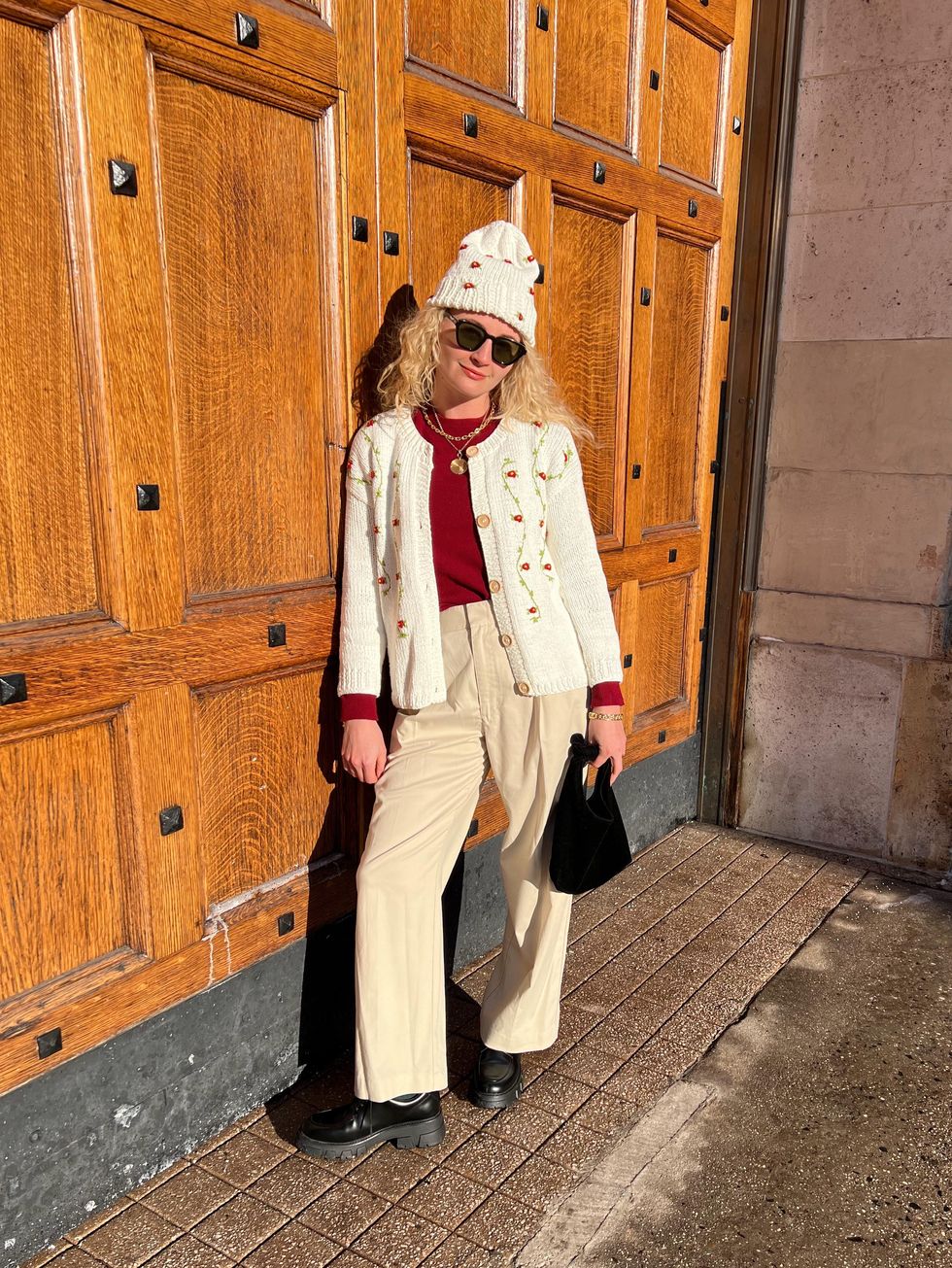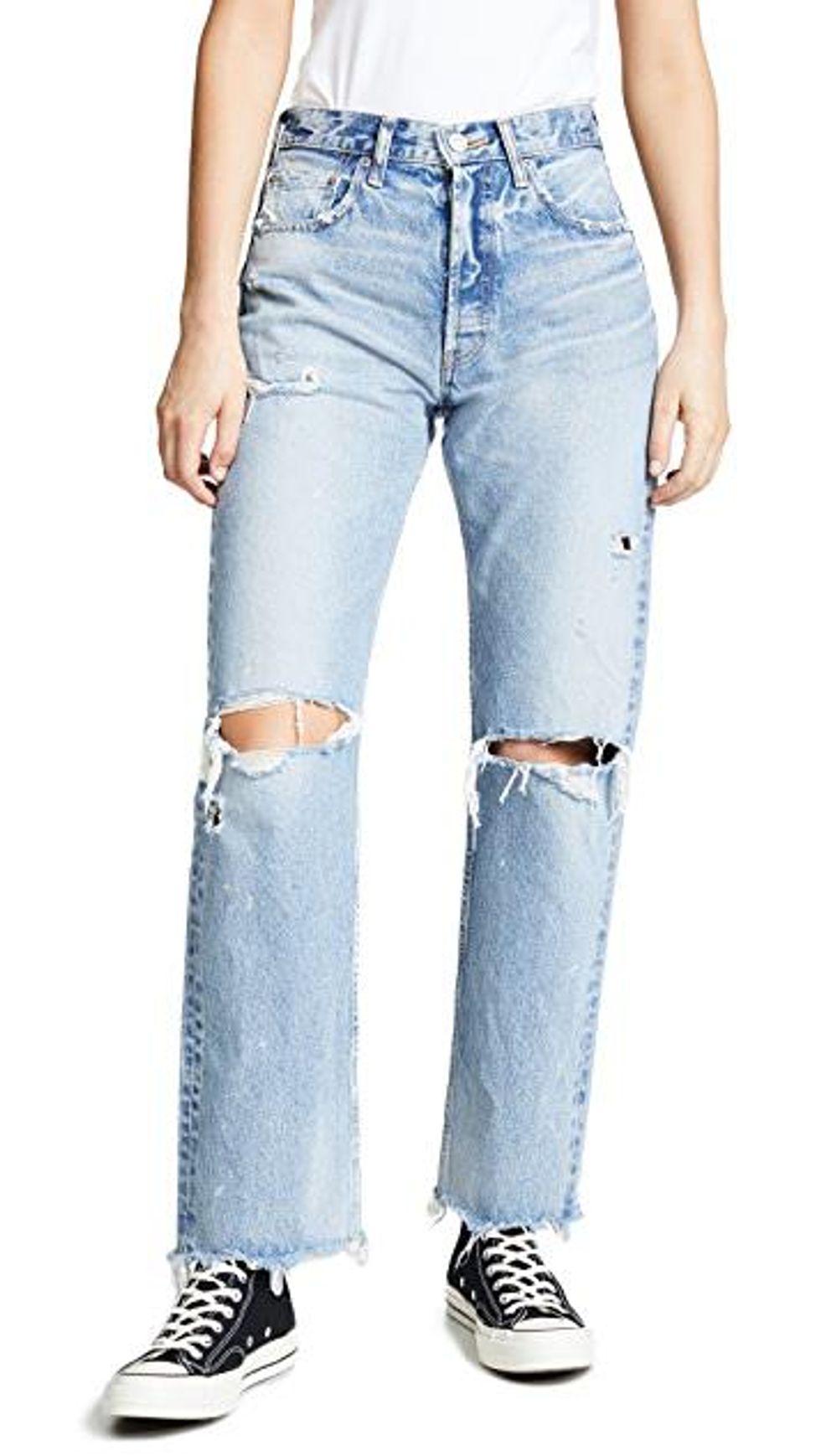 "My all-time favorite blue jeans are from Moussy, with the perfect soft-but-not-stretchy denim and a waist that is neither uncomfortably high nor impractically low. They're not cheap, but if you only own one pair and wear them at the exclusion of any and all other jeans for years (which is what I've been doing) the cost-per-wear factor starts to get more attractive. They're also incredibly high quality and hold up well over time, sort of like the quintessential pair of vintage Levi's but with a more updated fit."
Moussy Vintage
"K.ngsley is one of my favorite new brands that launched in the last couple of years. Their signature pieces are reimagined versions of classic tank tops, with a really distinctive sculptural look and unisex sizing. I have the Ian tank in white and the RaceHer in gray. They're the perfect summer going-out top, in that they make you feel like you're holding a martini even if the stuff in your glass is actually sparkling water. I love to wear mine with a stiff denim high-waist mini skirt from APC and low-heel sandals when it's hot out, but they also look great styled with loose high-waist wool trousers and a blazer in cooler temperatures."
K.ngsley
"I bought a trench from Topshop (RIP) forever ago, and it's probably the coat I wear most often. It's long and oversized and kind of looks like something I borrowed from an elderly gentleman who owns cable-knit sweaters in every color of the rainbow and smokes a pipe. I really appreciate that it fits easily over thick sweaters, making it ideal for both transitional weather and arm mobility. If I was in the market for something similar now, I would look on The RealReal in both the men's and women's sections where there tends to be a reliable influx of good ones."
TopShop
"I wrote an article specifically about these pants when I first got them in 2019, and my love for them has only waxed larger since. They're like a cheeky version of suit pants, with a bit of stretch and a subtle flare at the cropped angle. They can be worn with fancy tops and heeled Mary Janes just as easily as with an oversized sweater and loafers on an airplane. They're super-comfortable but still hold their shape beautifully. For a similar style with a more extensive size range, I also love Universal Standard's Ponte Pants."
AYR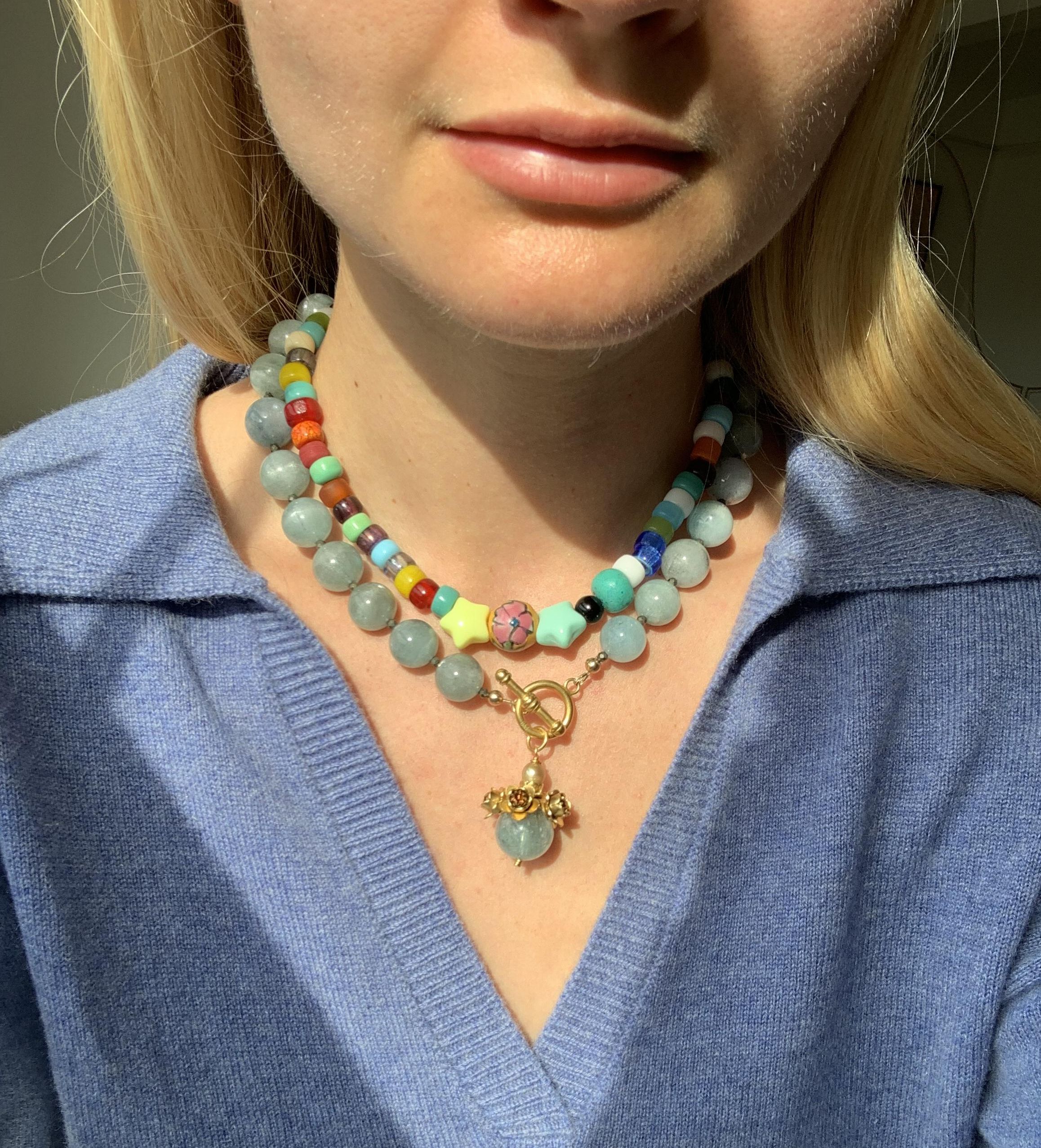 "Fanm Mon, a small brand based in Turkey, makes the most incredible hand-knit, hand-embroidered cardigans. Most sweaters these days tend to be made with synthetic blends, but Fanm Mon makes theirs in organic cotton, sourced from a manufacturer that previously supplied yarn exclusively for baby clothes, so the cotton is insane. Just extraordinarily soft and luxe feeling. They also offer a wool option, which is surprisingly soft too. I just collaborated with them on a small knitwear capsule of sweater and beanie sets, and I have two samples of the sets with me at home that I've been 'testing' out for the past couple of months, which as it turns out is a great excuse to wear beloved things daily."
Fanm Mon
I have a few pairs of New Balance sneakers that I rotate through all winter long, paired with brightly colored ribbed cotton socks. I love New Balance, but I'm picky about the shape of the sneaker and the colors. The combination has to have an almost vintage-y feel to it. Neutral shades are optimal because they tend to be the most versatile, but there are certain colors like cranberry and forest green that go with tons of stuff as well. Often the men's selection will have better options than the women's, so I always look in both if I'm shopping for a new pair. My current favorites that I wear incessantly are a navy suede pair with a red heel and white "N," and a cream leather pair with a black "N" and accents.
New Balance
"Don't Let Disco makes jewelry with some of the most incredible beads I've ever seen, and each piece is a thoughtful balance of whimsical and artful. The necklace I have has become an unexpected staple. I especially love adding it to otherwise classic or minimalist outfits, like pleated khakis and a white button-down or jeans and a black t-shirt. It's like the sartorial version of sprinkling flaky salt onto butter, if that makes sense??"
Don't Let Disco
"One time my Lowercase sunglasses fell out of my bag onto the floor of a train I was getting off of, and when I realized they were missing, I doubled back against multiple cars of people trying to move in the opposite direction with minutes to spare before the train left the station in order to retrieve them, which I did. But it was extremely stressful. Ever since, I've experienced a steady hum of low-grade anxiety whenever I wear or bring these sunglasses anywhere (which is pretty much any time the sun is out, if you're interested in the math). I have the Basil style in black. I love them so much—the subtle green lens, the unique shape of the frame, the fact that they're manufactured by a small brand in Brooklyn. Each pair goes through a 30-step process that takes 2 weeks to complete, which is exactly the kind of thing I'm inclined to nerd out about."
Lower Case NYC

https://coveteur.com/harling-ross-anton-fashion-essentials