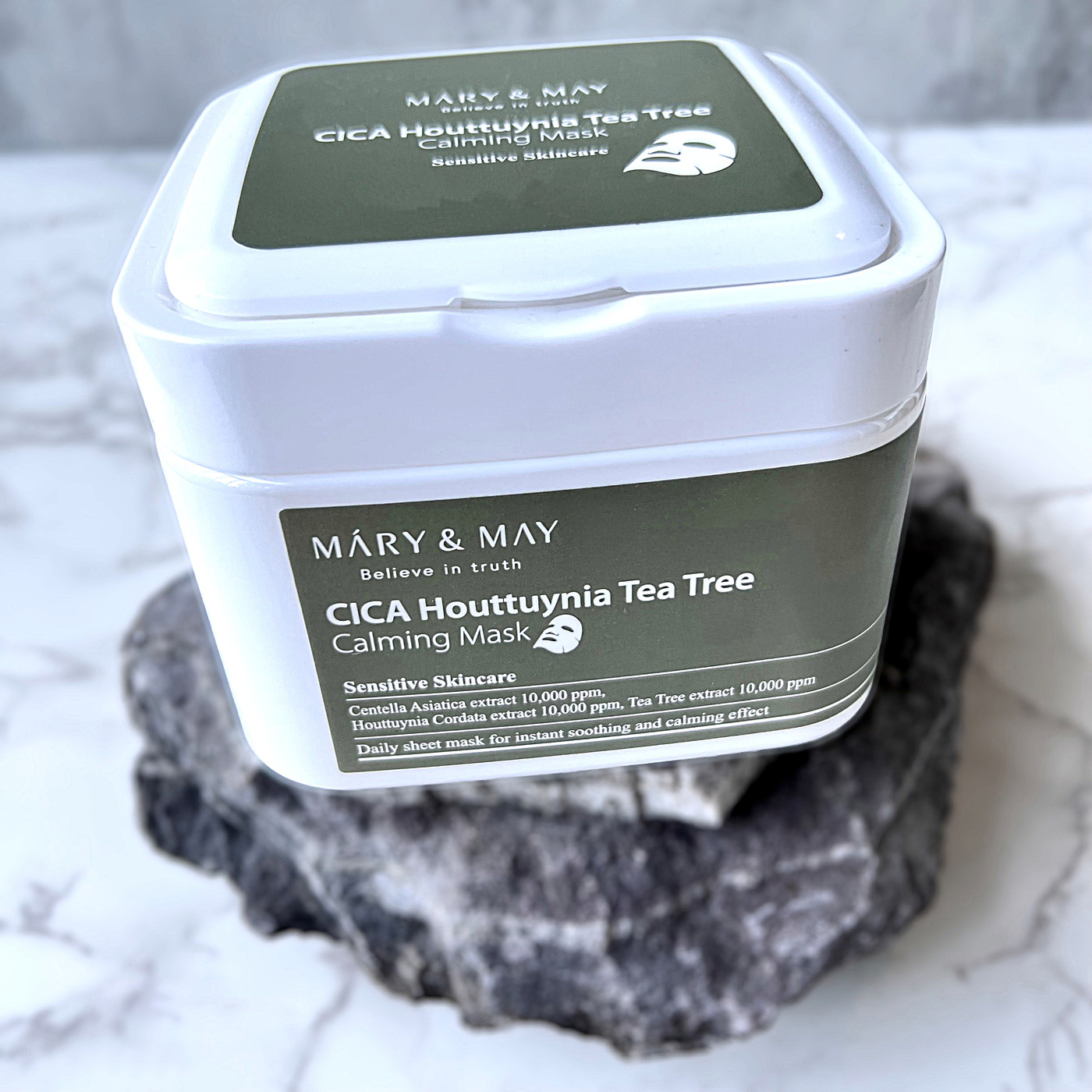 Oshen Skin is a new player in the Kbeauty world ~ this online shop focuses on brands that are eco-friendly, cruelty free and vegan and carry brands such as Mary & May, iUnik, Vegreen, cosRX, Dr. Ceuracle and Hamel.   The founder of the company graciously sent me a package of products: Vegreen Skin Barrier Reishi Serum, Mary & May CICA Houttuynia Tea Tree Calming Mask and two sunscreens from Hamel.   I have already reviewed the Hamel sunscreens (review here) and  now I am onto the Mary & May CICA masks.  I would like to remind you that if you are reading this thru Black Friday 2022, Oshen Skin is having a Black Friday sale, with up to 77% off.   Mary & May is a new brand this year for me ~ I have tried some of their products before and I have been impressed with them. 
 Skin Type/Concerns: oily, blemish prone, aging concerns, pores, fine lines/wrinkles, hyper-pigmentation
I received these products complementary to review and was not paid.  All reviews are my own honest opinion and  I never have been asked to write copy for a brand.  This blog post might contain promo codes, affiliate and referral links, which using my links will help generate a small commission that helps support my blog at no extra cost to you.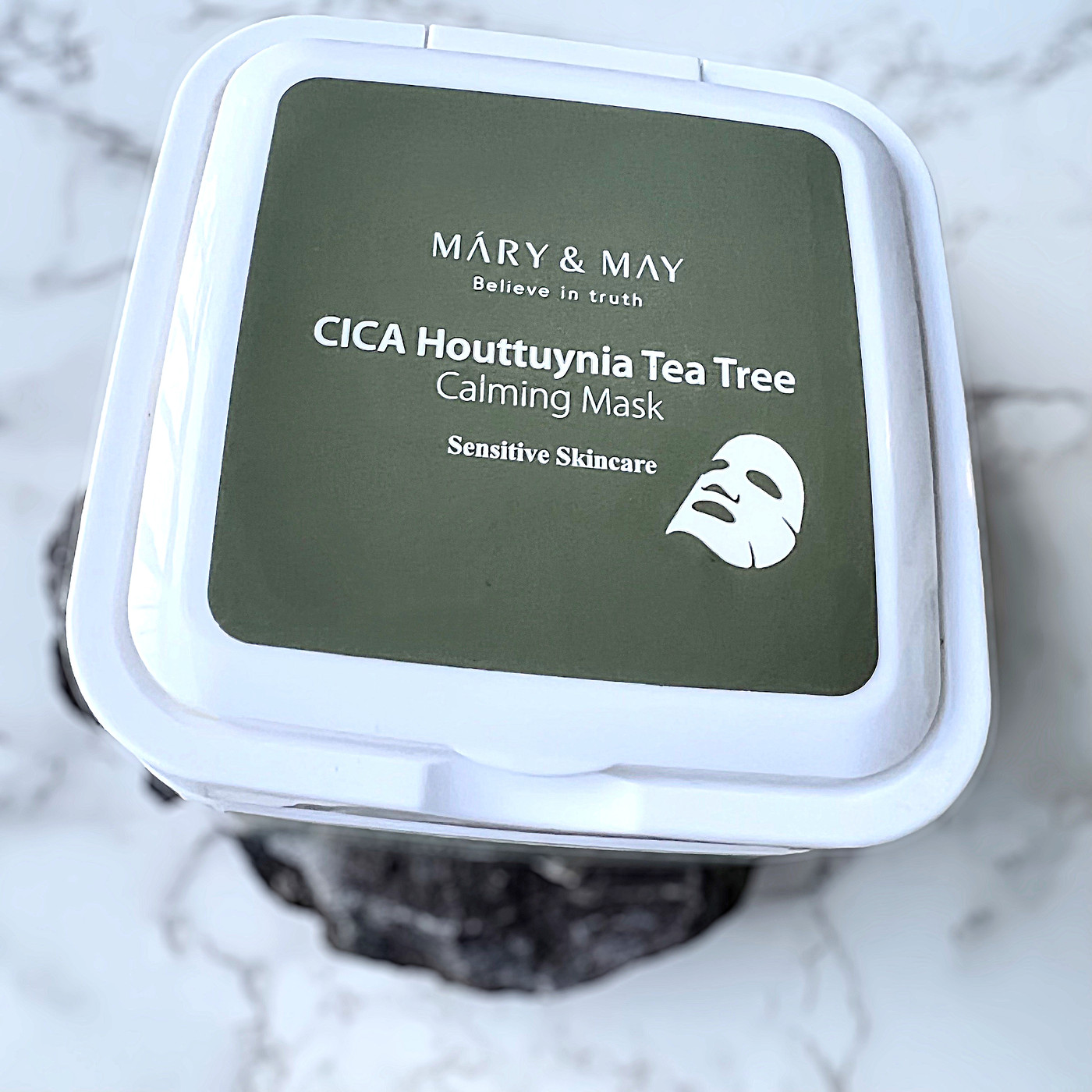 Mary & May CICA Houttuynia Tea Tree Calming Mask is full of soothing and healing ingredients that benefit oily and blemish prone skin best.  Containing 10,000ppm of centella asiatica, a common herbal ingredient that is used medicinally to help speed up wound healing, such as blemishes and skin rashes. It also helps minimize the appearance of pores.  10,000ppm of centella's bestie, houttuynia cordata,  a medicinal herb that is found in a lot in Asian skin care products. It is an antibiotic, which helps with preventing infection from skin problems, such as blemishes.  It also has powerful detox properties, is an astringent and anti-inflammatory.
Another 10,000ppm of my favorite tea ~ tea tree that is. Tea tree extract is known for its topical antiseptic and anti-fungal properties and help target and treat blemish-prone skin.  It also reduces oil and sebum production on your skin, while not disrupting the moisture level. Amino acid arginine promotes healing and detoxes your skin. It also helps guard against the formation of wrinkles and loss of skin firmness. Derived from camphor, oak and wheat sprouts, allantoin  is known for healing, soothing and softening skin along with helping remove cracked and chapped skin, leaving behind healthy looking skin.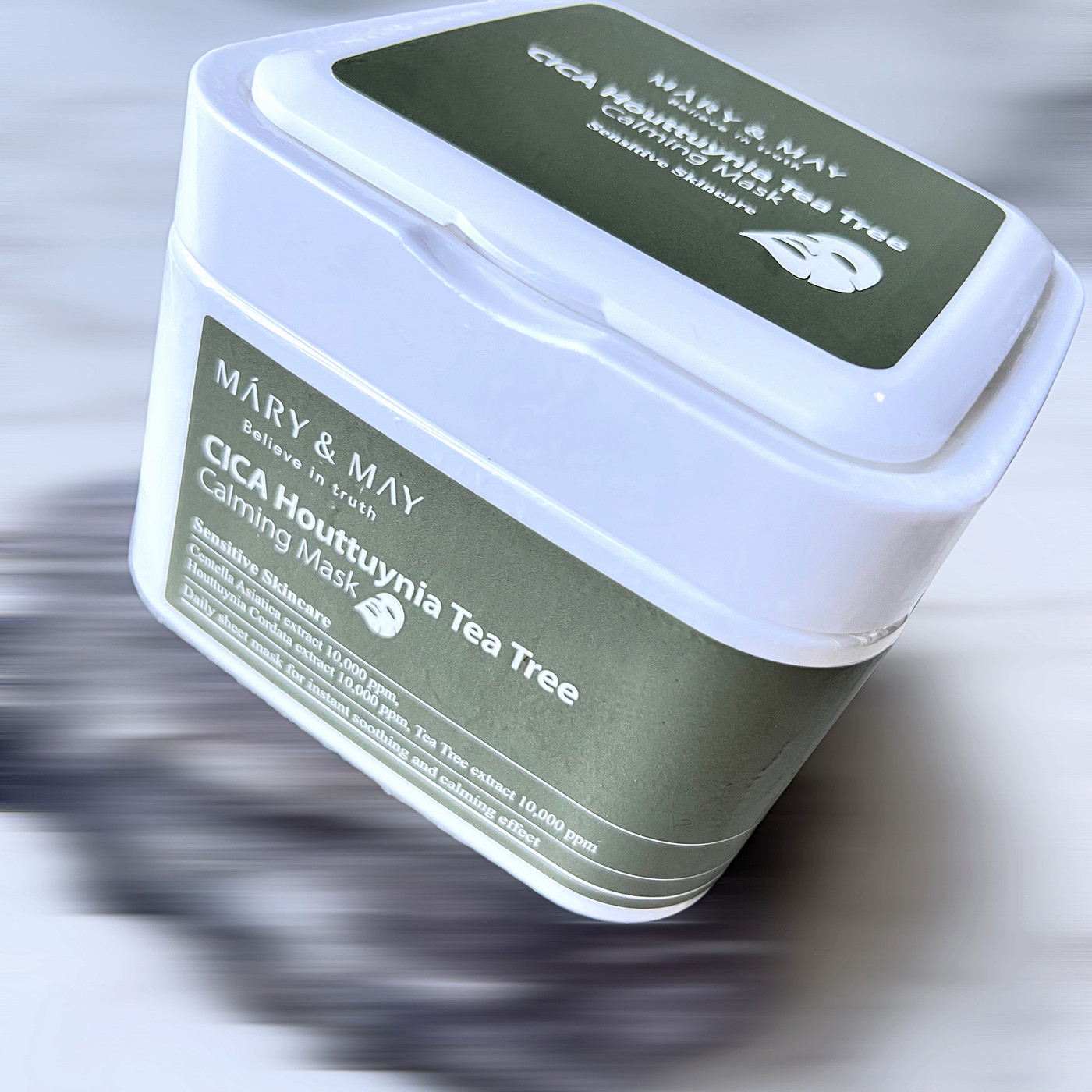 Licorice root  is a brightening ingredient as well as reducing flaking and smoothing your skin. It is also an anti-irritant and anti-inflammatory.  Hydrating humectant glycerin helps with healing of wounds and seals in moisture, maintaining the skin's water balance on an intercellular level, which makes the skin look healthy, moist, soft to touch and leaving your skin looking radiant and supple.    Another humectant, sodium hyaluronate, is an  intensive moisturizing ingredient which bonds water to keep skin hydrated. It is a natural substance found in the human body and it made up of amino and uronic acids. Mary & May is a vegan, cruelty-free and eco-friendly Korean beauty brand
Ingredients: Water, Glycerin, Dipropylene Glycol, Centella Asiatica Extract (10,000ppm), Houttuynia Cordata Extract (10,000ppm), Melaleuca Alternifolia (Tea Tree) Extract (10,000ppm), Hydroxyacetophenone, Arginine, Carbomer, Polyglyceryl-10 Laurate, 1,2-Hexanediol, Polyglyceryl-4 Laurate, Allantoin, Dipotassium Glycyrrhizate, Hydroxyethylcellulose, Caprylyl/Capryl Glucoside, Caprylyl Glycol, Butylene Glycol, Disodium EDTA, Fragrance, Sodium Hyaluronate (50ppm) cosDNA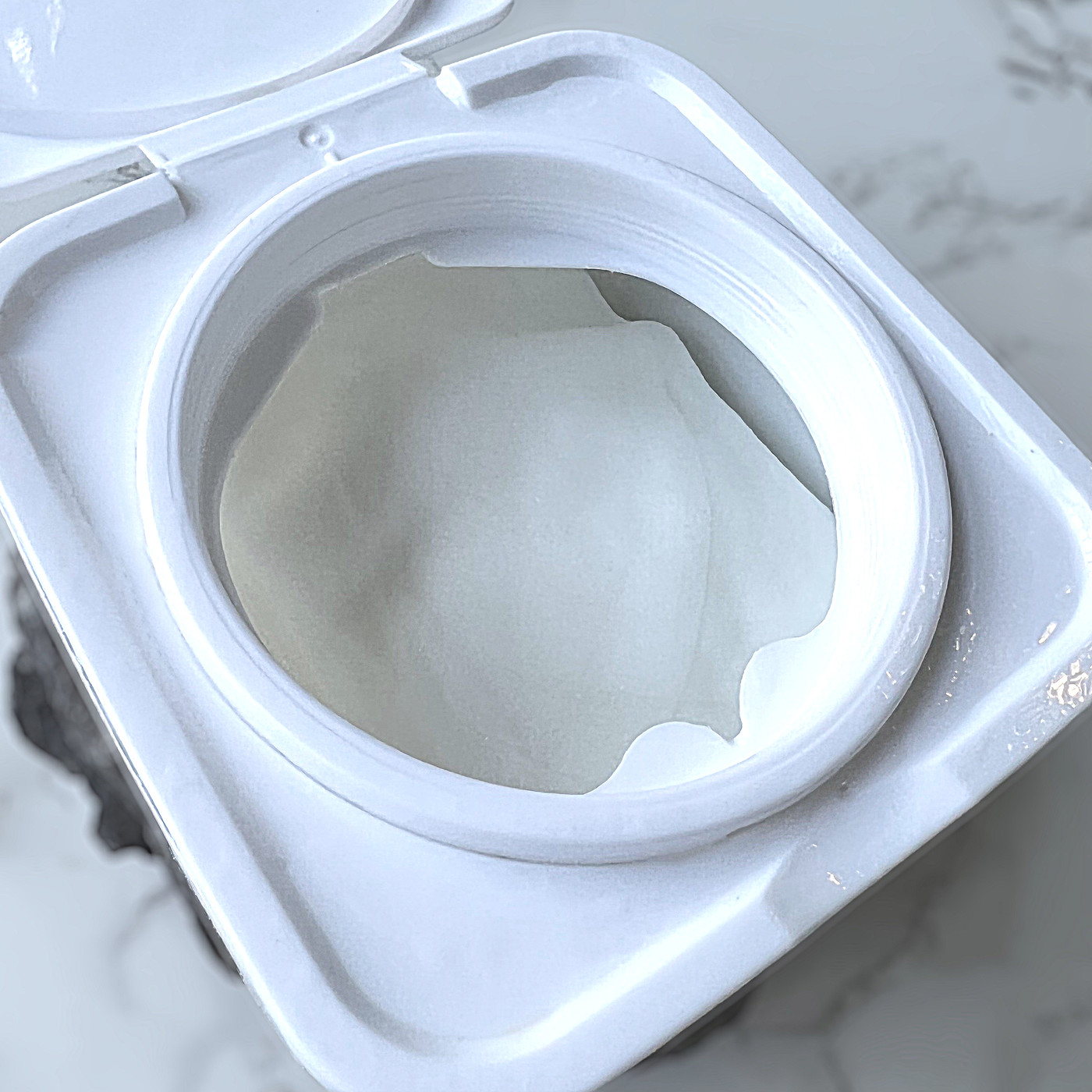 I love tub masks  ~ the first time I saw masks in a tub was by Japanese brand Rohto with their  Melano CC Intensive Brightening Sheet Masks and I love those ill-fitting, rough masks!  Mary & May masks are NOT rough at all, but super soft and have a fairly decent fit, considering they are tub masks.  I  have a larger face, and it fits comfortably on my face.  I opened up the tub the wrong way ~ there is an inner lid with a circle pull tab and I thought I was supposed to just pull that plastic round circle off ~ like opening up a can.  But I was not supposed to do that!  hahaha ~ that inner lid is just an additional protection for the masks to keep them moist and not dry out.  However, my masks were fine with just the outer lid closure
image from marynmay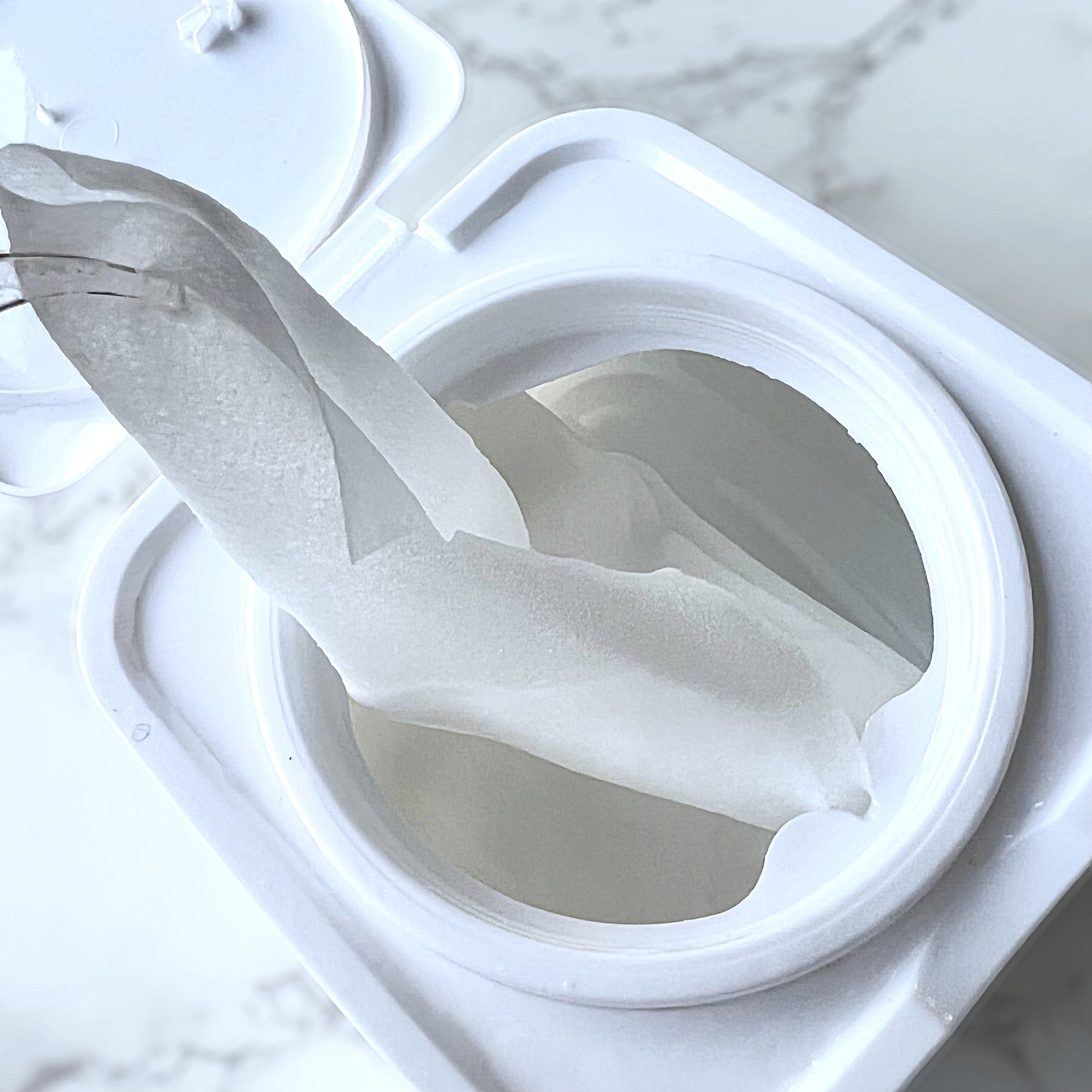 These have a light fragrance, and it's fresh and smells like freshly mowed grass. Using the plastic applicator tongs, I can pick up each mask individually and there is a spot in the lid where the applicator can snap back into.  The masks are very wet but not dripping wet and they fit nicely.  These are so refreshing and cooling on the skin and it really feels nice, especially when I have a blemish that is inflamed.  After 30 minutes, I remove the mask and my skin less irritated, feels very hydrated and calm.  The essence is not sticky at all and dries down quickly.  Once the essence is completely absorbed, my skin feels supple and soft.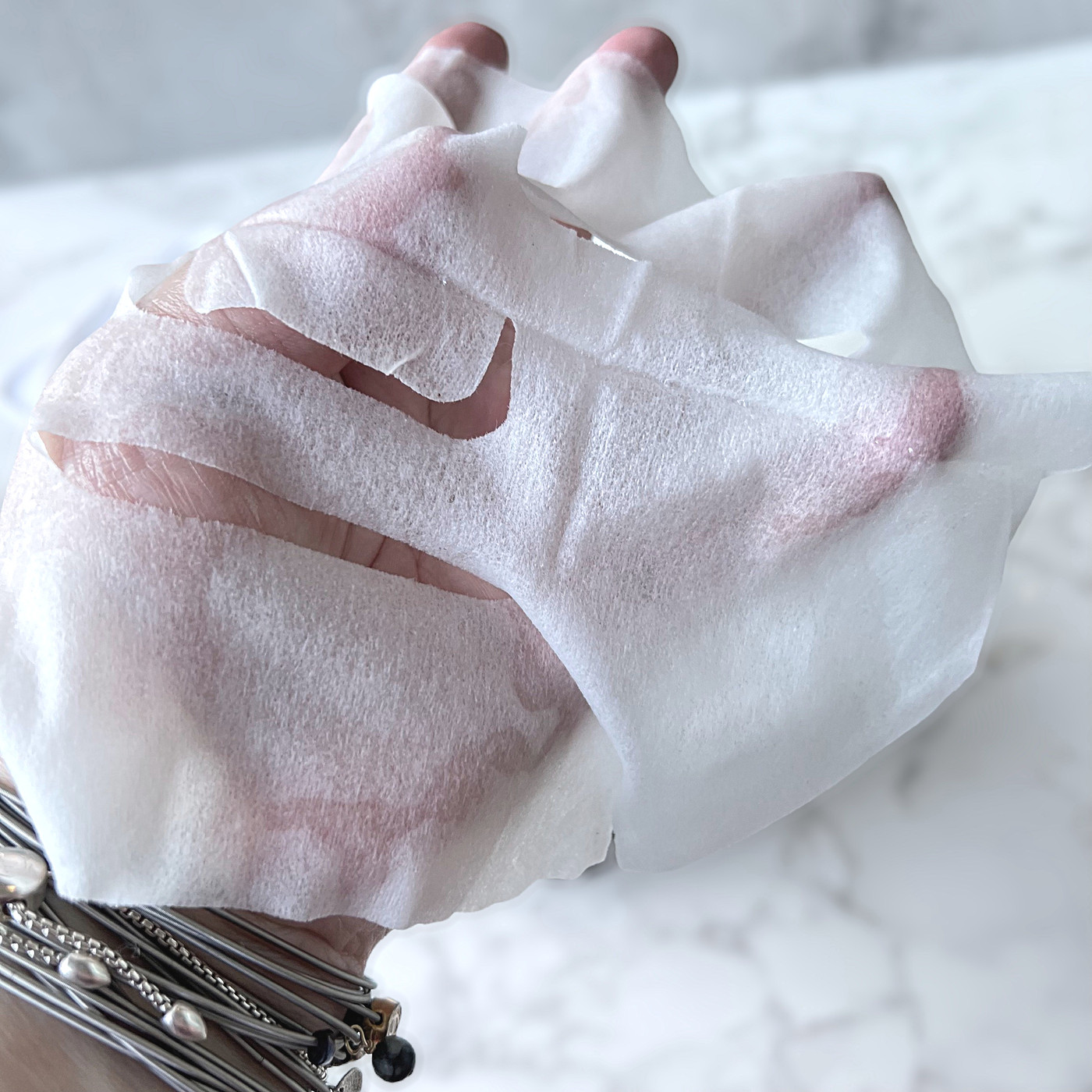 Mary & May CICA Houttuynia Tea Tree Calming Masks have a lot of healing, soothing and hydrating ingredients and it does deliver.  These feel so nice on my skin and I was very sad when I finished off the tub of 30  masks!   These were great as either a nightime or  a morning mask due to its non-tacky finish.
 Where to Purchase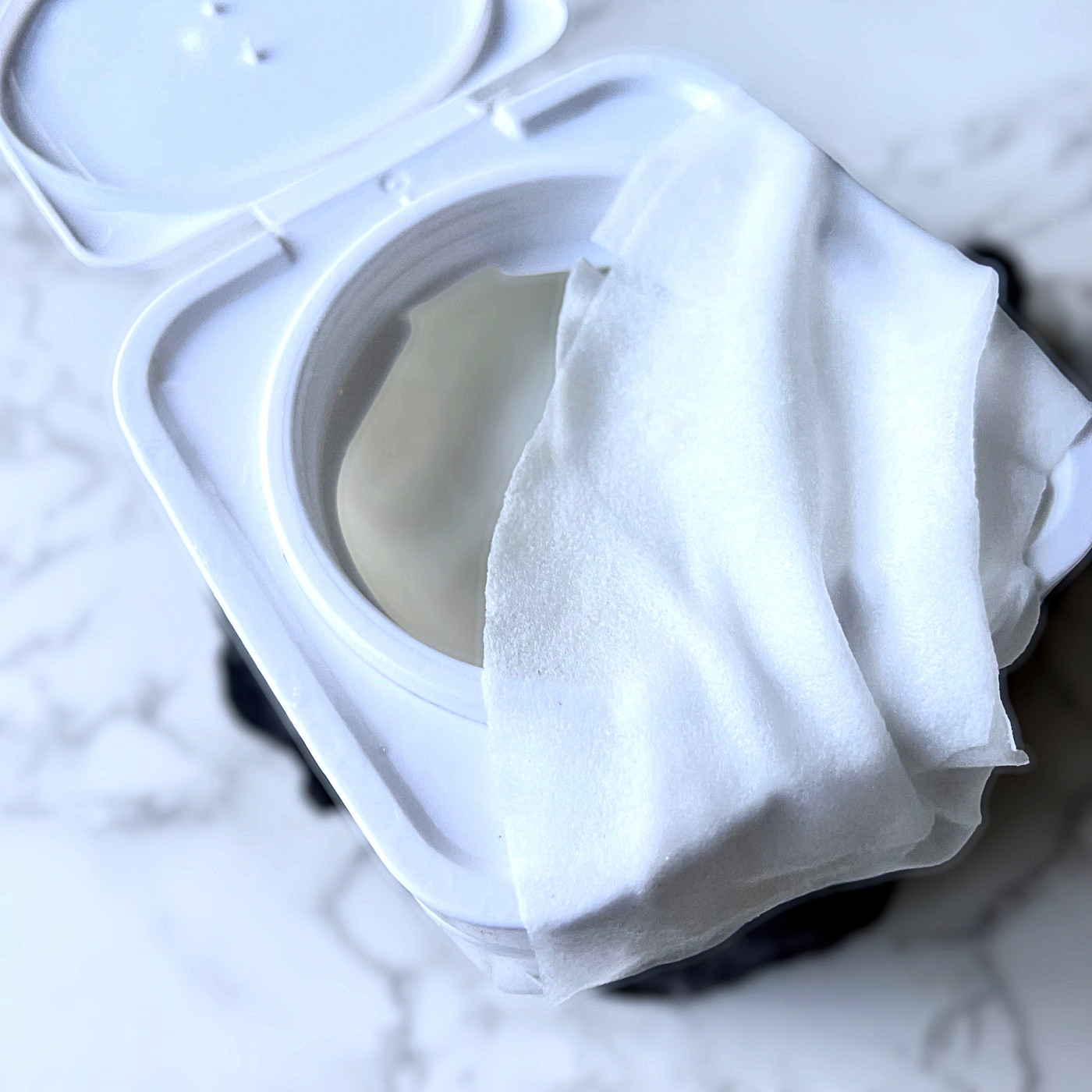 I am so pleased to see that Mary & May have produced their sheet masks in a huge tub ~ yes it is a plastic tub, but it can be recycled.  They also have a Hyaluronic Panthenol Hydra Mask tub as well, and I have been looking at one for the winter.   You can purchase these products at Oshen Skin.  Oshen Skin ships worldwide with some restrictions (read their FAQ), and offer free standard shipping with purchases over $99.00 and free express shipping for purchases over $199.00.  You can use my affiliate code of colebiancardi15 on any purchase and save 15% as well.  All prices in USD
I also wanted to link the Hamel Sunscreens and the Vegreen Skin Barrier Reishi Serum here as well, as they are on sale as well, through November 27th, 2022
[ blog post contains affiliate links ]