Negin Mirsalehi On Her Honey-Infused Haircare Line
5 min read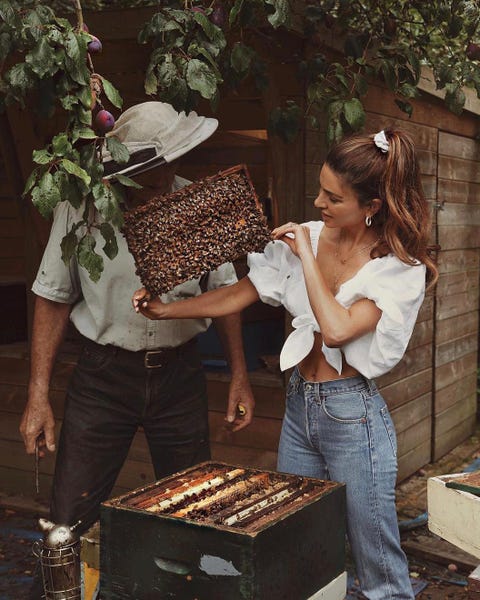 For many of today's biggest names in beauty, influencer fame came first, and the inevitable beauty brand followed. Which is understandable – it makes sense to build your community before branching into products: it's a ready-made fan base, ready to scoop up whatever you choose to stamp that starry seal of approval on.
But for Negin Mirsalehi, the social media stardom came as a result of what came before: honing her craft in the generation-spanning family business: beekeeping.
You'll likely know Mirsalehi as Instagram's most glossy-maned influencer, but there's more than smart lighting behind her ridiculously good hair. Her mother would slather her head in the Mirsalehi family honey as a child, leading to incredibly strong, mirror-shiny hair, and it's this tradition that sparked the birth of Gisou: her admittedly good-looking, yet equally results-driven haircare line.
ELLE UK caught up with Mirsalehi to talk stripping things back, scaling sustainability, and staying in tune with her body…
On Growing Gisou
Mirsalehi's offering has grown significantly since she launched her divinely rich Gisou hair oil – yet nothing in the line feels frivolous or superfluous. Similarly, the line's star honey extract remains at the centre of everything she produces.
In deciding what to tackle next, Mirsalehi turns first to her followers – all 7.1 million of them – to ensure she's delivering what they really want. 'I love hearing from our Gisou community. We constantly interact with them to find out what their wants and needs are, whether it's at one of our pop-ups in person, on social media, over email or during our 1:1 personalised consultations. We have a lot of exciting innovation debuting this year inspired by our community.'
First in line is this month's launch, the Honey Infused Beauty Balm. 'It's an oil-balm blend that melts like honey and absorbs like an oil for instantly smooth, supple skin. The results are efficacious because it contains such a high concentration of our Mirsalehi Bee Garden botanicals. The best part is that it's a serious multitasker — it strengthens, protects and hydrates the skin and its barrier while also enhancing your natural beauty by brightening and smoothing.'
On Scaling Up Sustainably
Mirsalehi knows exactly how to speak to the activism-focused Gen Z, and Gisou is a brand with a cause. More than a surface-level way to differentiate the line, her beekeeping heritage runs right through everything the brand does. 'Our ultimate goal is raising awareness around the importance of bees and to inspire a new generation of beekeepers.' Indeed, this year the brand has gone big with its first ever Bee Season pop-up in Mirsalehi's hometown, Amsterdam, where visitors could learn the intricacies of becoming a beekeeper – and there are more 'education-focused activations' planned for later in the summer.
Of course, this all sounds appealingly wholesome, but Mirsalehi is also in the business of selling products – in particular, to the notoriously newness-hungry social-shopper market. She considers the biggest challenge she's faced to be 'learning how to balance our community's growing demand for new products and scaling at a pace that's manageable for us. We like to put a lot of thought into every decision we make so that it's ideal for our loyal fan base — and for us.'
This content is imported from Instagram. You may be able to find the same content in another format, or you may be able to find more information, at their web site.
Every brand has a different party line, ready to call on when the sustainability conversation calls, but Mirsalehi thinks the key is to first discuss what exactly it means to be sustainable.
'I think the onus is on companies and influencers to educate their customers and followers on how they define "sustainability"', she says. At Gisou, it's about six key pillars: 'evolving our bee-centred approach, raising awareness for the importance of honey bees, increasing bee to bottle transparency, striving to make our formulations greener without compromising on function and quality, improving the sustainability of packaging and reducing our carbon footprint.'
On Finding Peace In Pregnancy
Mirsalehi, who announced her pregnancy at the start of this year, maintains a refreshingly simple beauty philosophy: you won't find her waxing lyrical about an endless array of products online, or continually jumping on the next big thing in beauty – and pregnancy has only amplified her 'less is more' ethos. 'I'm experimenting much less and am relying even more on the products that I develop myself through Gisou because I know exactly what is in them! For example, our Honey Infused Face Oil which is 95.7% natural is a staple in my routine that I can always trust. My pregnancy skin care philosophy is "get back to basics".'
This content is imported from Instagram. You may be able to find the same content in another format, or you may be able to find more information, at their web site.
When it comes to wellness, nature always wins – a message Mirsalehi hopes to pass on to the next generation, in the hope they'll feel inspired to keep the family bee garden thriving. 'Nothing makes me happier and makes me feel the most beautiful than when I am outdoors in nature, working with the bees and being surrounded by flowers in the bee garden. It is where I am the most calm, centred and at peace and – especially now, as a soon-to-be mum – can feel the most in tune with my body.'
This content is created and maintained by a third party, and imported onto this page to help users provide their email addresses. You may be able to find more information about this and similar content at piano.io
https://www.elle.com/uk/beauty/hair/a40142372/gisou/