Style for the Ages
13 min read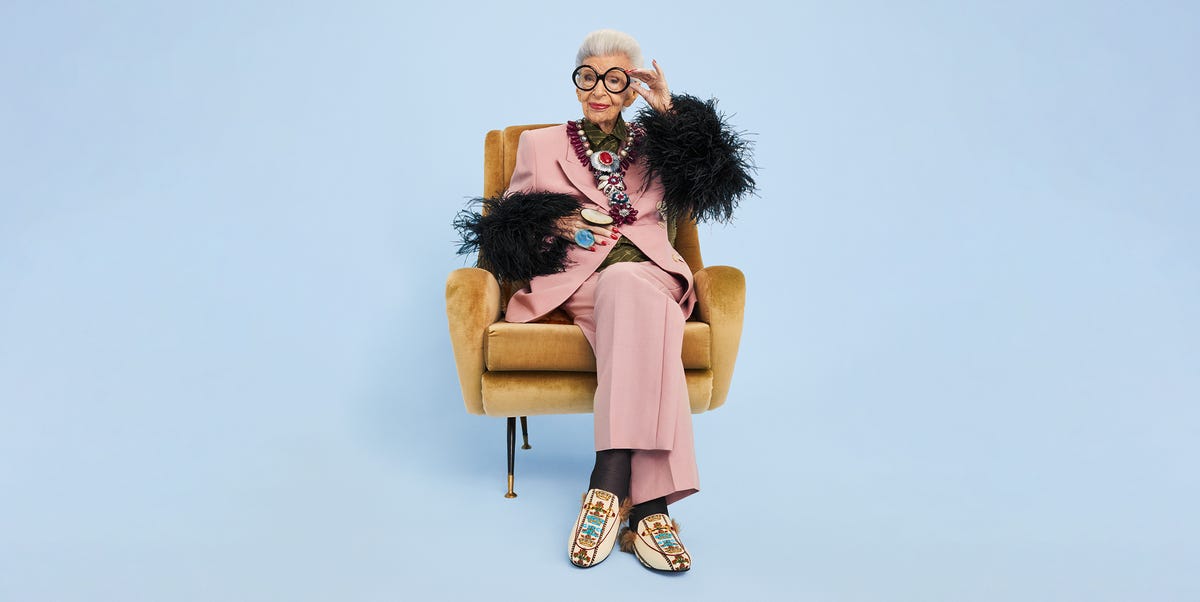 Style for the Ages. Exactly 100 years ago, Guccio Gucci founded a leather-goods company in Florence, Italy, catering to local equestrians with a range of saddles, bags, and elevated horseback-riding accessories. Over the next few decades, the family lead for business expanded—opening shops in Rome, Milan, and New York and adding ready-to-wear, handbags, and shoes to its cache of luxury offerings. The fashion house emerged as an industry powerhouse, its GG logo instantly recognizable worldwide long before logomania was a thing.
While Gucci has always set trends—such as horsebit-adorned loafers, bamboo bag handles, and the iconic red and green web stripe—it also transcends them. Its place has been cemented within not only the fashion history books but pop culture as well (including in countless rap songs). On the occasion of its centennial, Gucci is transcending age too. Creative Director Alessandro Michele has commemorated the big birthday with a special collection called Aria that seamlessly blends Gucci's past, present, and future, encompassing modern takes on archival designs and splashy pieces with marabou trim, crystal accents, and exaggerated silhouettes.
With that timeless, celebratory spirit in mind, we tapped six luminaries across art, film, fashion, and television at six different life stages to model pieces from Gucci's most recent collections. For each of them—actresses Anna Baryshnikov, Zoë Chao, and Natasha Lyonne; artist Sanford Biggers; model turned activist Bethann Hardison; and fashion icon Iris Apfel—clothes are much more than something to put on every day; they are a vital tool of self-expression, armor, a way of moving through the world. Here, they sound off on style, Gucci, and the fashionable moments that lie ahead.
Anna Baryshnikov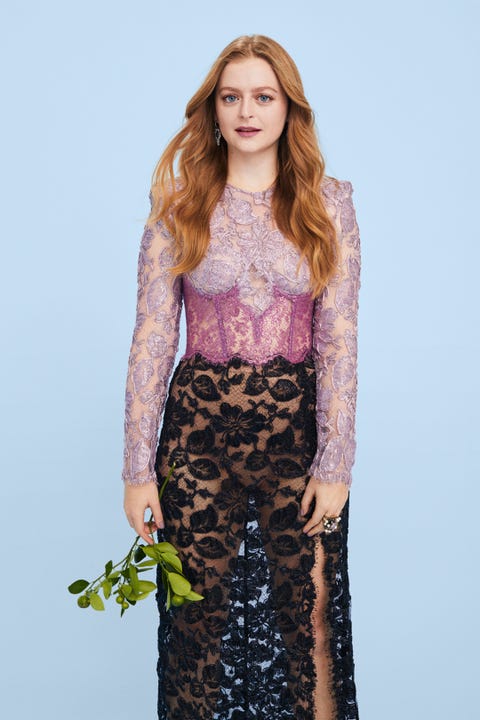 Gucci crewneck and long sleeve pencil dress
When Anna Baryshnikov made her Hollywood debut, she leaned on fashion to bolster her confidence. "I wore a Gucci dress to my first premiere ever, when Manchester by the Sea came out," she says. "I was so nervous that night; I had never seen myself on-screen. I wore a cream dress with these big, fun shoulders, and I had such a good night. I felt incredible."
The actress developed her personal style growing up in the New York City suburb of Palisades, New Jersey, where she was influenced by the women around her. "I had two best friends growing up in my neighborhood who had mothers with very specific sensibilities and aesthetic taste, and I feel like I learned from watching them dress," she says. Her parents, dancers Mikhail Baryshnikov and Lisa Rinehart, were close friends with Isabella Rossellini, who taught her from a young age that women need not exist in a box of dresses and frills. "She's the first woman I remember seeing in a suit. She was so comfortable in her own skin and so casual and elegant and practical. I remember thinking she looked like the most beautiful person I'd ever seen."
Still, it took time for Baryshnikov to trust her own sense of style. "Like a lot of teenagers, I was pretty insecure," she says. "I was looking around at what was trendy and just trying to make that work for me." In high school, that meant a heavy rotation of skinny jeans, ballet flats, and sweaters. "It's been a real evolution since then to actually listen to what I feel good in versus what I'm seeing around me." When Baryshnikov moved outside of Chicago to study theater at Northwestern, she brought her New York taste with her, slipping statement coats over all-black ensembles and braving the blustery temps in chunky boots.
"I hope I get to go through a maximalist grandma phase."
While Baryshnikov counts a great pair of vintage jeans, a classic cable-knit sweater, and a baseball cap among wardrobe staples, she's currently drawn to ambitious, colorful pieces—ones marked by a Gucci-like "joie de vivre," she says. As she looks toward her 30th birthday and the decades that will follow, Baryshnikov sees herself embracing more minimalistic looks, then circling back to statement dressing. "I think I'll hit a point where it feels like I've gotten to have a lot of fun and can appreciate pieces that are more restrained and laid-back," she predicts. "[But] I'm so inspired by some of the women I see walking down the street who are in their 70s and making some of the boldest fashion choices. I hope I get to go through a minimal phase, followed by a maximalist grandma phase."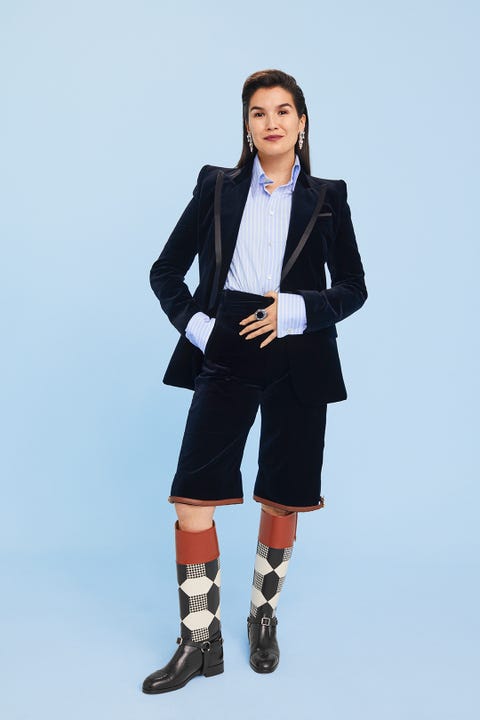 Davey Adésida
When Zoë Chao was 13, she was convinced that she was headed for fashion superstardom. The Rhode Island native entered a design contest she saw on the back of a cereal box and grew impatient when she didn't get a response: "For months afterward, I waited for a letter being like, 'You've been chosen to come to New York, and we're going to make your dress,'" the actress recalls. "That letter never came, and I remember being like, 'Mom, we've got to figure out a phone number to call because they're probably trying to get in touch with me," she says, laughing.
Undeterred, Chao spent her summers as a teen studying fashion at Rhode Island School of Design, where her father taught for many years. "What ultimately crushed my fashion-designing dreams was that I could not pin a sleeve for my life," she says. "So on the 14th round of trying to pin a sleeve, I was like, 'I'm out. I'm just going to wear clothes.'" Thankfully, that decision has worked out well. Chao is now known for roles in Strangers, Modern Love, and the indie romantic comedy Long Weekend, with several other projects coming up.
But her interest in fashion remained. "I was lucky enough to have inherited a lot of clothing from two of my great-grandmothers, so I've always had pieces from the 1930s through the '60s and '70s," she says. Since her college days at Brown, Chao has mixed those garments—1940s housedresses, sharply tailored wool coats, and playful separates—with her own current pieces. Earlier this year, she wore one of those housedresses while filming a scene of Modern Love. "It feels really special to wear clothing that was worn by the women in my family," she says. "I feel their presence and power when I wear their clothes."
Chao's tendency for mixing vintage and her embrace of whimsy inevitably drew her to Michele's Gucci, a dream for any fashion magpie. She is drawn to pieces that elicit strong emotions. "[This] Gucci suit changed my body cellularly when I put it on," she says, adding that she's "less excited about showing a ton of skin" and more interested in rich textures and layers. "I think I've learned that fashion can be a really helpful tool," she reflects. "It can protect you and shield you; it can also embolden and intrigue. There's so much going on in any given garment: texture, color, weight, material; there's inspiration in all of that.My default as a New Yorker is to wear black clothes, and it's Gucci that got me into patterns and color in a way that's a little bit more celebratory of existence," says Natasha Lyonne. Much like her prolific resume—which spans from her 1986 on-screen debut in Pee-wee's Playhouse to the comedy-drama Russian Doll she cocreated and currently stars in—Lyonne's fashion history is a veritable smorgasbord.
Citing Jimi Hendrix, Janis Joplin, and Christopher Walken as early style influences, she describes her childhood aesthetic as having "a bit of a troublemaker" quality to it, marked by sunglasses, headbands, and an embrace of her voluminous, naturally curly hair. "But around the time I [turned] 12, I remember hearing 'Smells Like Teen Spirit' and watching MTV, then all of a sudden my entire wardrobe shifts and I'm wearing black every day: black fishnets, black leather miniskirts, and black boots." Next up was a "raver" phase, when Lyonne's wardrobe was replete with baby tees and mini backpacks. "I stole my best friend at the time's baby-blue corduroy bell-bottoms, and I was wearing those a lot," she recalls. (That friendship hit a bump when Lyonne ruined them.) After being cast as the nomadic Vivian in Slums of Beverly Hills, she forged a connection with the character by dressing in platform shoes and vintage pieces found at thrift stores.
As Lyonne's film career took off, she went through a period of straightening her hair and subscribing to popular trends—moves motivated by a desire to fit in with her Hollywood peers and keep booking work. "It's a relief to come out on the other side of that," she says. Still, there are a few fashion memories from that time she looks back on fondly. For the Detroit Rock City premiere in 1999, she wore a pair of Gucci appliquéd leather bell-bottoms and a black tank top. "I remember being really in my element and thinking, This is a good outfit. Let's do this."
Lyonne has been a Gucci fan ever since, and she is especially taken by Michele's reimagining of the house. "There's such a great spirit of life and sense of humor around his aesthetics [and] an awareness of history," she says, "but with an eye to what's ahead." When she tried on an equestrian-inspired Gucci Aria look (sans pants), she was struck by its genderless appeal and maverick quality. On days when she feels like "a total mess," she says, her Gucci-filled wardrobe is an antidote to any perceived disheveledness. "I look down, and I'm in a Gucci blazer with a Gucci blouse and a Gucci purse and some Gucci slides, and I'm like, Oh, I guess I'm not as much of a mess as I thought. I gotta say, it's a pretty good time."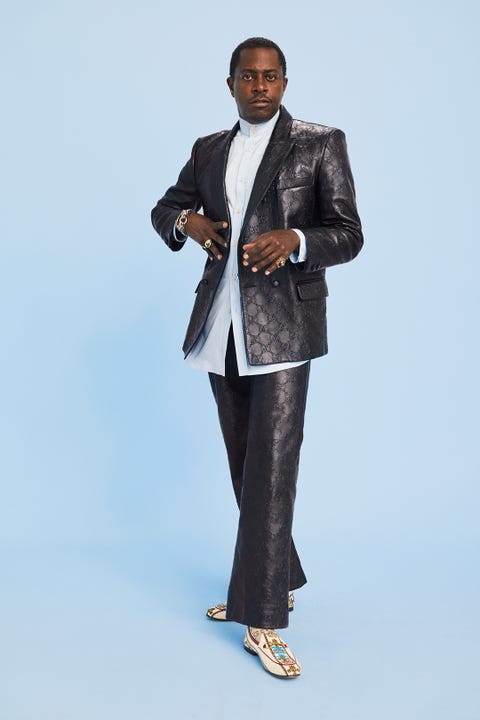 Long before artist Sanford Biggers had solo exhibitions from Milan to Miami, he was growing up in Los Angeles and absorbing his mother's affinity for style. "My mom would look at all the magazines and see what the new couture was, then she would go to the fabric district and buy materials, and she and her friends would put these outfits together," he remembers. "I used to have to trail along with her to all of these different shops and boutiques, so I spent a lot of time around clothes—a lot of time around women trying different clothes on and looking through fabrics."
As a college student at Morehouse, Biggers started putting his own bespoke wardrobe on display—after the first week of classes. "Back then—and I'm pretty sure it's the same way now—for the first week, freshmen all had to wear bow ties and bucks, which is not my getdown. As soon as I could, I would put on my normal clothes." Standout pieces in his collegiate wardrobe included a leather biker jacket he painted with portraits of Miles Davis, John Coltrane, and Jimi Hendrix and Dr. Martens. He wore his hair in short, sprouting dreadlocks. "It was not the Morehouse look at all," he says, but it was his own, and that individualism has stuck throughout subsequent phases of his life.
"There's the quilts that are in my body of work, where I clash a bunch of patterns, so I sometimes wear clashing patterns."
While doing residencies throughout Europe early on in his career, Biggers linked up with a friend from Los Angeles who was working in luxury fashion. "We went on a shopping spree, and between that and all the cities I was visiting, I became totally into fashion," he says, noting a draw toward mod shirts and Italian suits.
A recipient of the Rome Prize in Visual Arts and the Guggenheim Fellowship, Biggers focuses on sculptures, paintings, and multimedia works. They frequently explore African-American history and culture and have been displayed at Studio Museum Harlem, Tate Modern, and the Whitney, among various other museums. Over the years, exhibition openings, gallery parties, and other art-world fetes have given Biggers the opportunity to experiment with different sartorial choices. "There was a spell when I wore a lot of black, and then after that I started wearing bright colors," he says. "My mom always liked to see me in colors, so that was an homage to her. And obviously, there's the quilts that are in my body of work, where I clash a bunch of patterns, so I sometimes wear clashing patterns as well."
Given Biggers's appreciation of European tailoring, the black leather suit he recently wore—embossed with Gucci's signature GG logo—was a fitting choice for him. A mix of Gucci jewelry and his own completed the look, a reflection of his love of accessories. Let him grab one thing from a Gucci store and he'd likely choose "a nice pair of Gucci shades," he says. "I'm obsessed with sunglasses. I've collected them over the last decade or so. Some of them are from large fashion houses, some are $10 that you might find at the beach—but they all look cool."
Bethann Hardison never intended to model, and she certainly never envisioned a life that would see her walking the runway in Versailles one decade, helming a modeling agency the next, and later leading a global movement to diversify the fashion industry. In addition to these achievements, she is Gucci's Executive Advisor on Global Equity and Culture Engagement, and a member of Gucci's Global Equity Board, which guides the company on issues of diversity, inclusion, and change within the industry. But in the early 1960s, the Brooklyn native took a job in New York City's garment district, and over the next 50 years, that life crystalized.
"My first job was at a button factory," she recounts, "and the gentleman that hired me thought I dressed too well to sit in the factory, so he took it upon himself to make me the messenger that took the buttons to the designers and showrooms." Though it was the business aspect of the garment district that excited her—not fashion—industry titans Willi Smith and Bernie Ozer looked to her as a muse, and in time she began modeling. "It was never something I desired, [but] I was good because I was a former child tap dancer," she says. Hardison relished the theatrics of runway modeling, and as she traveled the world, she began to hone a distinct sense of style.
"[At my age] you dress much more for ease and comfort, and you don't care about what anybody's thinking because you're so comfortable in yourself."
"I really think of myself as bohemian," she says, noting that trips to Ibiza in the '70s sparked an affinity for unfussy, ethereal silhouettes, and bold colors and patterns (which would tee up a later love affair with Michele's Gucci). Since retiring from modeling in the early '80s, she's gravitated toward a uniform of jumpsuits and long dresses. "When you're younger, you're much more ambitious about putting things together. You have the time, you have the energy, you're influenced by many other things and outside forces," she explains. "[At my age] you dress much more for ease and comfort, and you don't care about what anybody's thinking because you're so comfortable in yourself."
Do not mistake Hardison's proclivity toward ease and comfort for monotony, though. She is often spotted in Gucci's splashy prints and exaggerated proportions and even starred in the house's Pre-Fall 2020 lookbook. Though she spends much of the winter at her homes in Mexico and Marrakesh, a statement coat like the Aria tweed number that grabbed her attention is a must when she's in New York. "It's like a back-in-the-day houndstooth," she says.
Few people have remained as deeply entrenched in the fashion industry for as long as Hardison, or been such ardent advocates of diversity. "I'm proud of the fact that I utilized the industry to help change society," she says. Ever the trailblazer, she's hopeful that others will follow suit. "The stages of this life of mine have been quite interesting. I'm happy to live it for everyone else to see that it's all possible."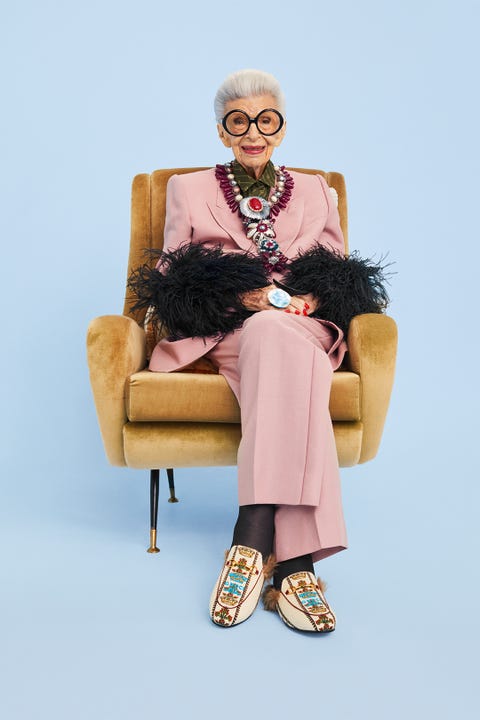 A birth year isn't the only thing Gucci and Iris Apfel share. Both wield instantly recognizable sartorial prowess (Gucci with its GG logo and red and green web stripe, Apfel through her signature glasses and costume jewelry), each is among the most respected names in fashion, and both are deft in executing celebratory, maximalist looks.
"My earliest fashion memory is finding the first pair of eyeglasses that intrigued me when I was about 11, at a yard sale," Apfel says. Unlike the small black frames that were popular at the time, the pair that piqued Apfel's interest were oversize and red. While she prefers not to describe her style—"That is for other people to do," she says—the New York native affirms that it's been the same her whole life. "I was on my way to my 90s," she says of how she dressed in her 20s. And 30s. And 40s… et cetera, et cetera. "My style hasn't changed. It has just gotten more so."
"Know who you are, and get comfortable with it. There's no sense in wearing someone else's style."
Apfel's first Gucci purchase was a "very good looking" heavy gray wool poncho. Fast-forward to today, and she's fallen "madly in love" with The Hacker Project, a groundbreaking collection of pieces that blended the styles and codes of Gucci and Balenciaga as a commentary on authenticity within the fashion industry, as well as a pink feather-festooned blazer. "It's right up my alley."
Though her favorite occasion to get dressed for is bedtime (good thing Gucci makes pajamas), she counts personality, a good lipstick, and a wrist full of bracelets as her top three fashion essentials. For those still developing their own aesthetic, she offers this: "Get to know yourself. Know who you are, and get comfortable with it. There's no sense in wearing someone else's style."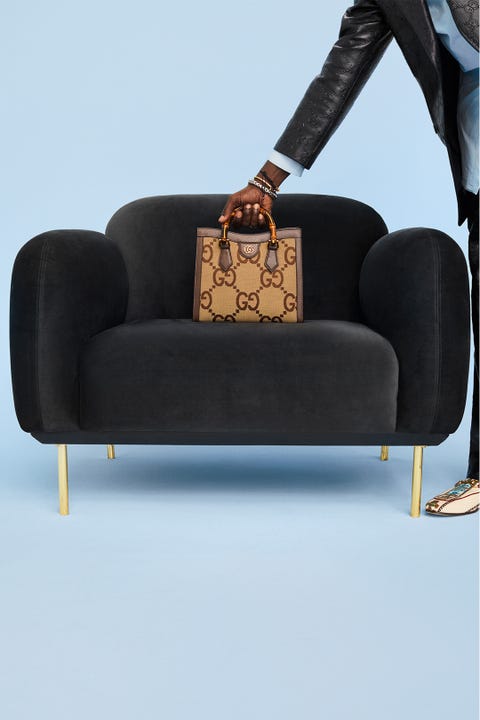 https://www.harpersbazaar.com/fashion/a38078776/gucci-100-portfolio/
Pet fashion has become a growing trend in recent years, with many pet owners wanting their furry friends to look stylish and on-trend.