Muay Thai is a unique sport that is renowned within and outside Thailand because it offers fitness, weight loss, and health benefits. Muay Thai is fought in a boxing ring, and like many other sports, it has its unique apparel, which is boxing shorts.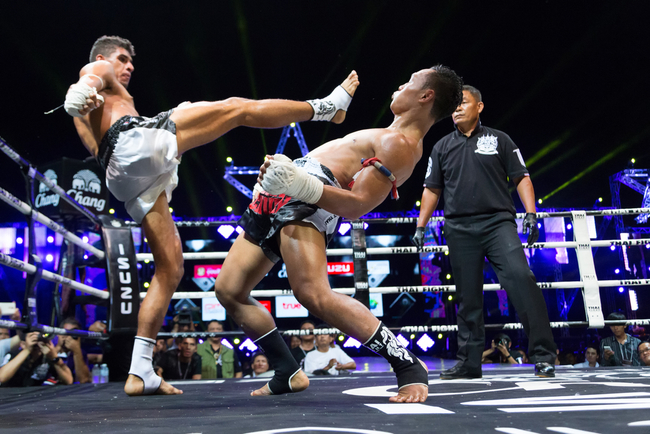 However, Muay Thai shorts are different from regular boxing shorts as they come with their unique design, loud colors, and unique illustrations and graphics.
One unique difference between Muay Thai shorts and boxing shorts is that while boxing shorts have become longer and reached knee-length, Muay Thai shorts are still on the shorter side due to the nature of high kicks involved in the sport.
What is the best material for Muay Thai shorts?
When shopping for Muay Thai shorts, the best material to purchase is satin fabric or satin-blend material. Satin is comfortable, light, and durable.
You'll also find other shorts made of cotton, nylon, and polyester, but they don't offer great quality like satin. Ensure that your satin short has high-quality stitching and fits comfortably.
How to Wear Your Muay Thai Shorts
There is no strict rule on how to style Muay Thai shorts, but some Muay Thai fighters would roll the waistband and raise the short further higher than the mid-thigh where it usually sits.
You will find some people wearing their Muay Thai shorts long and baggy reaching the top of their knee, but not long enough to restrict their movement and kicks.
You'll also find some others rocking the retro style that's characterized by a narrower waistband and a shorter-than-usual length. These shorts are the classics and are more form-fitting than the standard Muay Thai shorts.
You'll need to watch the openings
Sometimes, the leg openings for Muay Thai shorts can be too wide for comfort and place your priced jewels at risk of being seen. If you're opting for the classic-style Muay Thai shorts and you don't have thick things to cover up the space, you'll need to wear a trunk or boxer briefs for the sake of modesty.
Can Muay Thai shorts be fashion Shorts?
Many persons who are not into Muay Thai might think there's nothing stylish about Muay Thai shorts. However, with the different designs being produced and customized daily, Muay Thai shorts have become tasteful and fashionable.
Muay Thai shorts have also made their way into pop culture as we've seen several celebrities wear them.
Wiz Khalifa's picture with him in Yokkao boxing broke the internet, just as Joe Jonas, of Jonas Brothers, Mia Kang, and Idris Elba have also at different times expressed their love for Muay Thai boxing.
In 2018, we saw Pharrell Williams go into a partnership with the Japanese brand Nigo, and he started using Muay Thai trunks as casual short pants even in public places. Selena Gomez has even performed in Muay Thai shorts in 2016, making their identity as fashionable pieces very valid.
You can never go wrong with Muay Thai shorts 
If you're ready to begin training at a Muay Thai training camp in Thailand, you need your sportswear to begin. Suwitmuaythai with homely recipe is a new Muay Thai camp which service good food and fashion. Muay Thai shorts are fashionable and effective as the best sportswear for your fitness training.