Top 25: Ocean Beauty Q&A
3 min read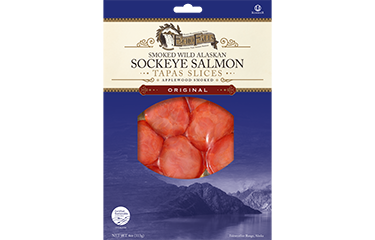 Ocean Beauty is featured in The Top 25 Seafood Product Innovators list, published by SeafoodSource on 28 September, 2021. Ocean Beauty Seafoods Vice President of Retail Sales Ron Christianson speaks here on behalf of the brand.
SeafoodSource: Which products have you seen resonating in 2020/2021?
Christianson: As consumers have been eating more at home during the pandemic, we are seeing increased interest in products that offer a more elevated experience for in-home dining. For instance, our Ocean Beauty Cedar-Wrapped Salmon is gaining good retail distribution, especially in the West and Midwest. There aren't many products like it on the market. We take wild salmon and season it and wrap it in real cedar, so the finished product takes on a delicious smoky taste. The technique makes for a special meal, and it adds the variety and convenience that consumers are looking for after a year and a half of cooking three meals a day.
Another example would be the Captain Findus product line that we are distributing in North America. These are top-quality, European-style battered and breaded whitefish products that are a welcome addition to this category, which is lacking a premium brand and a high-quality tier. Consumers really appreciate the once-frozen raw materials with no additives, the high ratio of fish to breading, and the authentic recipes. We are supporting this dynamic range with direct messaging to the consumer through the retailer and on social media.
SeafoodSource: What are the key features highlighted in Ocean Beauty's latest product innovations, and what kind of trends inspired them? 
Christianson: Our two latest product introductions are our Echo Falls Tapas Sliced Smoked Alaskan Sockeye Salmon and Hot Smoked Alaskan Sablefish. For our Tapas Slices, we are tapping into the cheese and charcuterie board trend. This product is perfectly-sized to fit on a cracker and pre-sliced, so it is as easy to add to a cheese board as other sliced meats. During the pandemic, consumers were looking for ways to make their own meals a bit more special but without a lot of work. Now that we are starting to entertain in small groups, we want the same easy elegance. Our Tapas Slices fill the bill.  
Smoked sablefish has been our most requested item, so this addition to our Echo Falls product line, responds directly to these customer and consumer requests. Anyone who has had smoked sablefish knows just how delicious and decadent it is, and the product adds to the variety of offerings in the premium Echo Falls line.
SeafoodSource: Heading into 2022, what can you tell us about Ocean Beauty's product portfolio goals/aspirations?
Christianson: In 2022, you are going to see major changes in our hot smoked salmon line-up. We are also making packaging enhancements on our Echo Falls line of smoked seafood. I'm not ready to discuss the details yet, but we will be announcing these new innovations soon. We will also be adding some very innovative new products from Captain Findus to bolster our range.
Photo courtesy of Ocean Beauty
https://www.seafoodsource.com/news/foodservice-retail/top-25-ocean-beauty-q-a