Wedding Planner Reveals 'Most Effective Way' To Ensure No Phone Ceremony
3 min read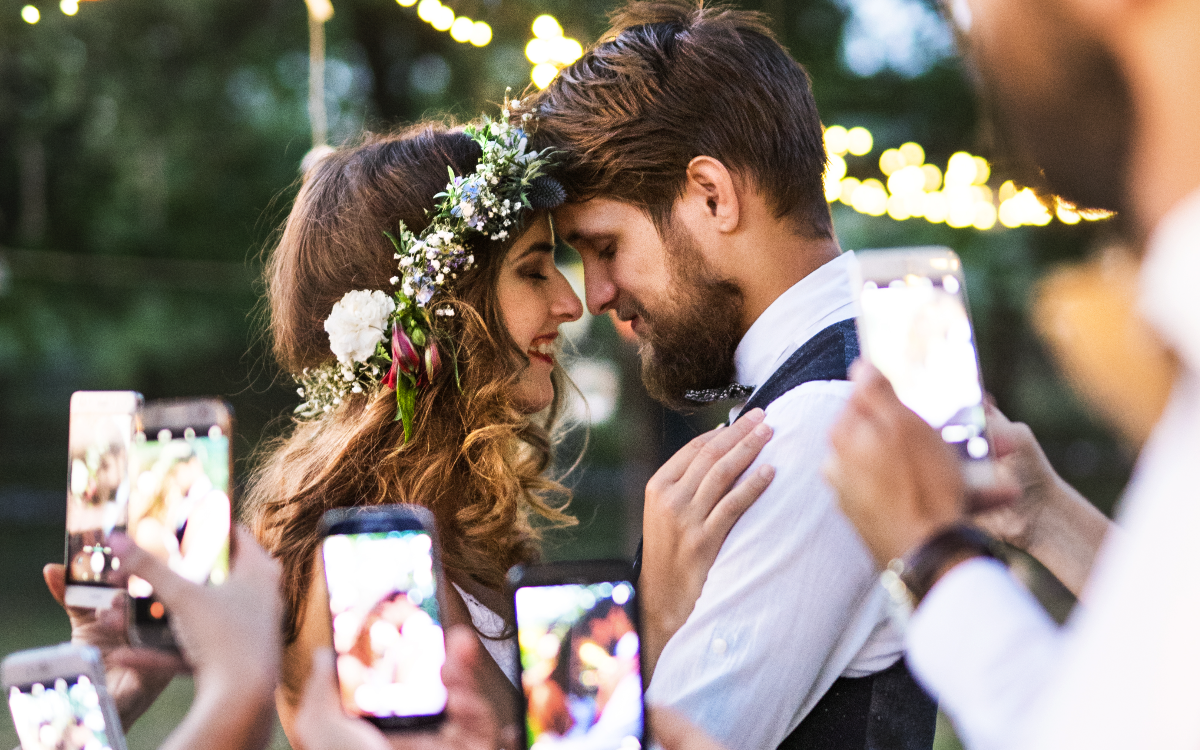 A California wedding planner has revealed what she claims is the "most effective and honestly only" way to have an unplugged ceremony.
To the uninitiated, an unplugged ceremony refers to a wedding trend in which none of the guests present are allowed to be on or take pictures with their phone.
While that might sound simple in theory, it has often proven difficult to implement in practice, with many loathed to put down their smartphones. The benefits are plain to see for those in the know though.
Speaking to Brides magazine, wedding photographer Jennifer van Son put the difference in succinct perspective, explaining that it ensures guests are "present and focused" on the happy couple. "It focuses the entire energy of the whole ceremony onto what's actually happening and that sacred moment of the actual wedding," she explained.
Van Son notes that on a personal level it also makes the wedding photographer's job easier. "It gives us clear shots," she said. "We don't have to struggle to find an angle and it's a more visually appealing look than phones in the air."
Convincing guests to part company with their phones is easier said than done though. However, wedding planners Grit & Grace claim to have come up with the best approach to ensuring things go to plan for those seeking an unplugged ceremony.
In a video that has already racked up 2.2 million views on TikTok, one of the company's main planners explains "this is how you actually make sure people are not on their phone during your wedding ceremony." The video can be viewed here.
"Because no matter how much you love them, I'm pretty sure that's not the vibe you are going for in your professional wedding photos," she adds.
The Southern California wedding planner claims that "hands down" the "most effective way to make sure people are not on their phone and that you genuinely have an unplugged ceremony" is to "ask your officiant to make an announcement" when everybody has arrived.
She claims that while "unplugged signs" asking people not to use their mobile devices are "cute and trendy," people tend to just walk right past them paying little notice in the process.
The logic holds up: having the officiant announce it gives it a gravitas and importance as part of the ceremony that might have otherwise been lost.
Her advice was met with resounding agreement on TikTok.
Forgetdani wrote: "As a photographer, I always just announce it," while TrexTorrie suggested you could also get the officiant to announce to guests that there will be "a second kiss at the end for them to take their photos," noting "it helps."
Diana Laura Herrera said she was planning to have someone "collect them" off guests before they enter the venue—but that plan didn't sit well with everyone. "How will you keep your guests' phones safe and prevent them from getting stolen?" User4l86 asked. "You may trust everyone but your guests won't."
Pikaa.lu had a more extreme suggestion for combating phone use. "Get a water gun," they wrote. "If the Maid of Honor sees someone with a phone she squirts them." Venue coordinator Nikita Ewert adopts a similar practice. "I tell people I'm hiding the Super Soaker in the bushes. Everyone surrounding the culprit will have to pay," she wrote.
Despite the advice, many revealed that even though multiple announcements were made before their respective ceremonies, some guests simply couldn't resist.
Olivia Kennedy said the guests at her wedding "ignored" the announcement and as a result "ruined" her "first kiss photo." Mrslovettspies said they made "three announcements" prior to the start of the ceremony and yet "two people with phones out" are visible in their wedding pictures.
One soon-to-be-married bride is taking no chances with her wedding.
Ariananotgrande_ commented: "I'm very particular about wanting an unplugged ceremony, I'm gonna put it on the invites, have a sign, and have the officiant say it to cover all the bases."
Newsweek has contacted Grit & Grace for comment.
https://www.newsweek.com/wedding-planner-no-phone-unplugged-ceremony-1701751