What Color Is the Most Common for Bridesmaids' Gowns?
5 min read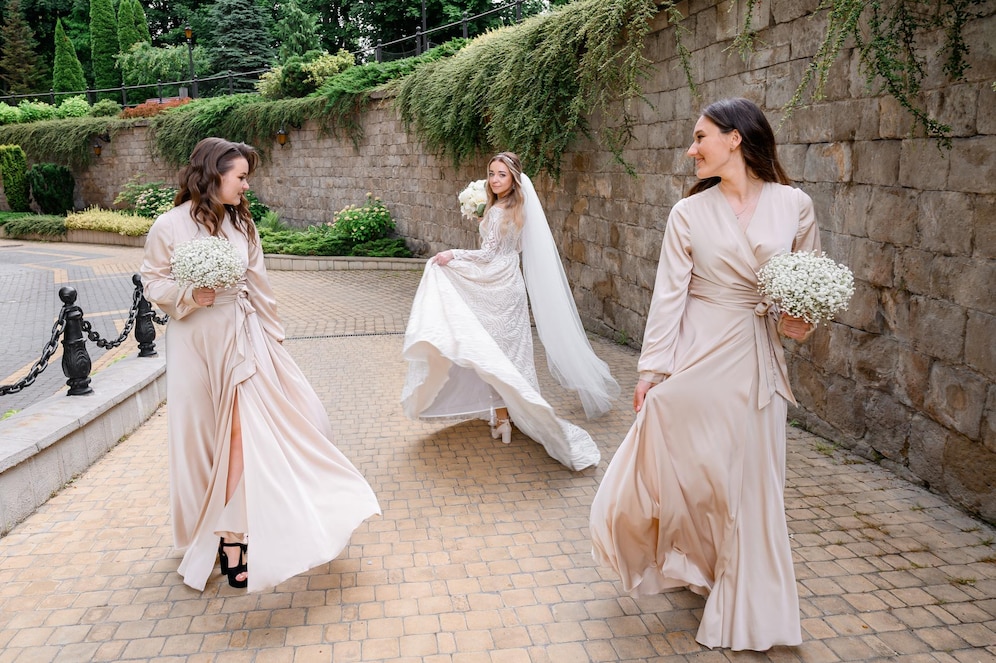 Very often, newlyweds choose a thematic color for their wedding ceremony, which will be a decorative base and give it an additional aesthetic whole. Also, this color is often the inspiration for the clothes and fashion combinations of those guests who have a significant role in the wedding, such as bridesmaids, best men, and the close family of the newlyweds.
If you are one of those who are preparing for a wedding this year, and you are also open to accepting different trends and want to have bridesmaids at the wedding, then you are in the right place.
You are probably already discussing with your closest friends what kind of dresses to wear, what color they should be, whether there should be a specific model and whether you should follow your own taste. Other questions are whether the dresses should be long or short, in a pastel or impressive shade, simple or with interesting cuts. When there are more people involved, making decisions is more difficult, because everyone's wishes, ideas, and tastes have to be reconciled.
That is why we recommend that you follow the current trends, but also adapt them to your wishes. On sites like AW Bridal, you can find lots of ideas and inspiration and see what you actually like for your bridesmaids. And if you are a bridesmaid at your friend's wedding, then you should be actively involved in choosing the theme.
How to choose a bridesmaid dress?
The soft shades of gray-colored strapless and knee-length dresses look more than elegant. With this dress, choose sandals in similar shades and silver bracelets. This simple combination looks refined. Whatever shade you choose, don't forget that the most important thing is the cut. Let your dress flare from the waist down. You can fasten it to the waist itself with a wide satin ribbon. One shade, a few details, and an elegant hairstyle and you will look more than fashionable.
Although not a rule, the bridesmaids of the wedding are also thematically dressed in a common color or at least wear some uniform details.
Ideal choices when it comes to the colors of the bridesmaids' dresses are soft beige tones or a shade of champagne.
But this does not mean that this color is mandatory. In fact, due to practicality, bridesmaids choose the same dress model in different colors, but for greater practicality, a different model in the same color is a simpler choice.
Why?
Colors generally look good on everyone, especially neutral ones. But when it comes to the model, then it should be chosen according to the body type and personal taste of the bridesmaid. So if you are a bride, don't push for a uniform look. And if you're a bridesmaid, respect the bride's wishes as much as you can.
And when it comes to colors, here are some interesting tips:
Black
Black is a classic color that you can never go wrong with. It is an elegant choice and almost any dress model is beautiful when it is made in black. Choose easy-to-wear textiles, especially if the wedding is indoors or during the warm days of the year.
You can't go wrong with black. Of course, avoid white, because it is a color for the bride. Only if she insists on a similar dress code as her, an exception can be made.
Red
Red comes in different shades. From intense red to the color of the wine. Many times bridesmaids have a choice of a different shade of the same color. So, if the theme color is red, you can always experiment with different shades.
Find the one that suits you best.
Dark green
We really like this color. It looks great on silk and satin dresses. Green is a beautiful color, especially its dark tones. Well, if you want to be a striking bridesmaid, then you won't go wrong with this color.
Pastel blue
Most often, bridesmaids wear bright shades, although there are exceptions to this rule. The pastel blue color is gentle, but striking at the same time. It looks great on almost any girl, regardless of hair color and complexion.
Of course, it can be combined with shoes and a bag in black, but it also looks good in a golden or even brown shade.
Champagne color
This color is very close to white, so you should be very careful with the shade. But despite that, the champagne shade is one of the most popular formal dresses.
Of course, the color is chosen together with the other bridesmaids and the bride and should be in line with the idea of ​​a perfect wedding. However, we believe that the champagne shade will be on the shortlist before you make the final decision.
Pink
Different shades of pink are a surefire choice. The only thing you need to be careful of is not to choose too bright a color.
Doing so can make you look like you're in pajamas, especially if you go with a silk or satin model.
Therefore, choose a quality one if you decide on the pink color textile.
Brown
Brown is a beautiful color, if you choose the right shade, and combine it properly. It gives an image of organic color because we are used to seeing it around us in nature. We must also say that when we see a brown dress, we are surprised by how nice it looks. Even though it doesn't seem like the most beautiful solution, when combined with other colors, it becomes a great combination.
Don't take our word for it, just browse different models and see how it looks.
Conclusion
We hope that with our advice we have helped you make the right decision for your wedding. Of course, there are many other colors, and in the end, it's best to choose what you personally like. However, you should feel great instead of thinking about whether you look weird and how others perceive you.
Make the right choice for you and enjoy the celebration.