Your Guide to Alexa Chung's Twee Fashion Style
5 min read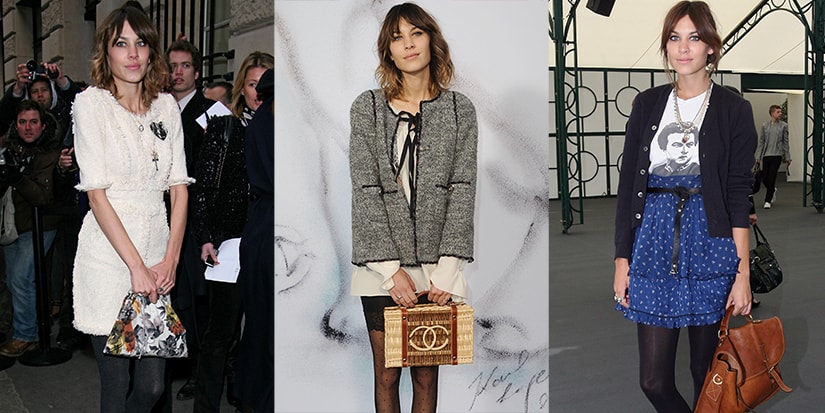 For a time, back when Instagram was filtered in Sierra and Lark, and when "quirky" as a descriptor was aspirational, Alexa Chung ruled the world. In the mid 2000s, before all the fanfare, Chung came up as a television presenter in her native England. Hosting shows like Channel 4's Popworld and T4's Frock Me, she became a staple of the London scene — and an accidental It girl in the process. By the turn of the 2010s, there wasn't a front row that Chung didn't grace, nor a Tumblr feed she didn't embellish. With the emergence of the influencer and a new wave of camera-ready Insta-models, however, the age of Alexa Chung waned during the decade's latter half. But according to TikTok, nearly 10 years since Chung's reign, the bygone fashion icon hath risen once again.
Last May, I was browsing Etsy when I came across a metallic '60s shift dress and was struck by a vision: Glastonbury 2015, Alexa Chung in a metallic Bella Freud frock and Hunter rain boots. A perfect outfit. Several frenzied Google Image searches later, I was shaking the dust from dozens of other looks Chung wore, quite like that one, that had been shuttered away, postered to some backroom in my mind for the last decade. Alexa in leather shorts and a grandpa sweater. Alexa in Converse and a sundress. Alexa in jeans and a white T-shirt. As it turns out, I wasn't alone in my reminiscence. By Fall, Twitter user @ladybturd had proclaimed Alexa's 2013 book, It, as "ancient history" — biblical, even.
For a legion of teenage girls and 20-somethings, Chung was a style icon of messianic proportions — the second coming of Kate Moss, or Jane Birkin, or any from the long lineage of It girls who had come before. Like her predecessors, Chung possessed an indescribable, immeasurable élan, that titular "it." An enigmatic combination of charm, joie de vivre, beauty and perhaps most importantly, personal style: a look entirely her own, fully realized, instantly disguishable and endlessly covetable.
Perhaps one reason why Chung's style — or any It girl's look, for that matter — had such pull was its inability to be pinned down. In 2010, the New York Times described Chung's sartorial aesthetic as "tomboy-meets-Lolita." Others have used "garçonne." No matter, it always conjures some sort of multitudinous contrast, inhabiting an alluring series of juxtapositions, between girlish and matronly, sexy and dowdy, feminine and masculine, teetering somewhat unpredictably between them. To the 2008 Elle Style Awards, Chung wore a bubblegum pink Luella prom dress — very Lolita; two years later, to the same event, an ice blue tea dress, Chanel purse and beehive 'do — very maman. For the 2010 Met Gala, she switched tracks, donning a suspendered, Le Smoking-style suit, lace blouse and strappy Mary Janes, and looking like one of Helmut Newton's androgynes.
In addition to being a poster girl for prestige houses on either side of the English Channel, Chanel and Burberry, Chung was an early proponent of some of the turn of the 2010s' buzziest young designers. Along with stylist Valentine Fillol-Cordier, she was friends with Parisian designer Charles Anastase, progenitor to Jacquemus and purveyor of a specific brand of Parisienne geek-chic. She was also a massive fan of Christopher Kane, back when his galaxy-printed dresses were all over Tumblr. In 2010, Alexa followed in the footsteps of Jane Birkin, playing muse to Mulberry and earning herself a namesake It bag.
What sets Chung's style apart from her contemporaries, for me, is her proclivity for the oddball flourish. On the more conventionally cutesy end of the spectrum, I'm talking Chanel picnic baskets and Charlotte Olympia's iconic kitten flats. From there, we move into quirkier territory: silver horse brooches and skeleton bag charms. A dress printed with taxidermied foxes — from Opening Ceremony's collaboration with Deyrolle, naturally. To one of her first Chanel shows, she punctured one of the house's signature tweeds with a plastic, heart-shaped John and Yoko pin. In 2010, British Vogue asked her to keep a style diary of a month's worth of outfits — February 4's entry featured a Topshop dress and "a bow in [the] hair by Kleenex."
Beyond her style, the It girl's widespread appeal can be attributed to her awkward charm, her chatty wit and her worldly discernment. Like an older sister's best friend, Chung was at once relatable but unattainably cool, in-the-know but not unwilling to divulge. In Chung's first book It, which reads as a hardcovered, cloth-bound Tumblr moodboard, Chung teaches us how to do her signature cat-eye flick ("Liquid liners in a pen form are best for control and staying power.") She waxes poetic about the unconventional sex appeal of Annie Hall's tweed, her love for Lolita's heart-shaped glasses, Margot Tenenbaum's kohl-eyed mystique, and "Edie Bloody Sedgwick" and her signature leopard jacket and "mini mini mini dresses."
Back in the days of It, Chung bridged the gap between twee (see: Zooey Deschanel in Erin Fetherston) and the darker Tumblr girl aesthetic (see: Sky Ferreira at SXSW 2013). Now, the It girl's TikTok resurrection arrives as part of today's rapid-fire trend cycle, the logical successor to last year's ultra-sexy, ultra-coiffed Y2K. In 2010, Chung's unpolished and decidedly unsexy look emerged perhaps as a reaction to the aughts' McBling fashions. Today, millennials and Gen Z alike might be clamoring for her nostalgic stylings in a similar, reactionary way. For a cohort of women, Chung's early 2010s outfitting is a relic of a more casual, carefree time in fashion: before pap walks required full glam and a phone call, before every D-lister had a personal stylist, before the industry's irrevocable Instagramification. It was an era when personal style reigned and rang truer, when things were a little messier, more spontaneous and more fun.
---
Zoë Kendall is a writer and editor specializing in fashion and culture. You can find her at her website and Instagram.

https://hypebae.com/2022/2/alexa-chung-twee-tiktok-style-trend-tumblr-early-2010s-fashion-revival