12 Beauty Buys Our Editors Completely Finish
5 min read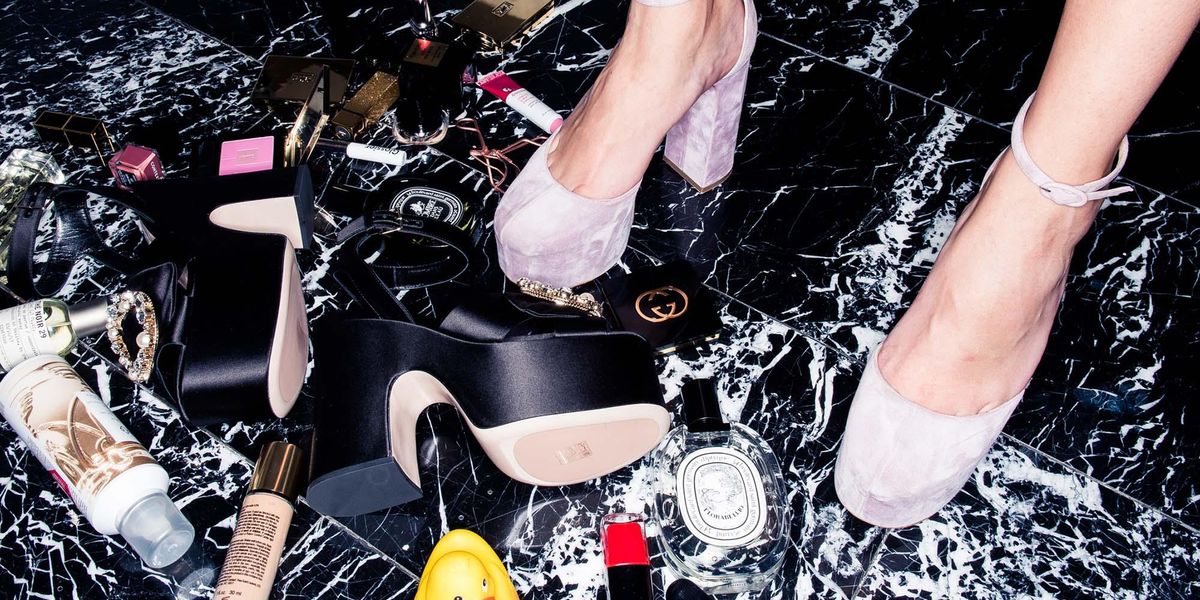 When it comes to beauty products, there are four degrees of buying in: Liking something enough to actually purchase it, liking it enough to regularly use it, liking something enough to finish it, and being convinced to buy it again. In the height of the beauty guru era, when 'empties' videos reigned, these roundups were a way of weeding out what stood out in the sea of new products and was actually worth working into your everyday routine. Although they've fallen out of fashion on YouTube, the sentiment remains. Ahead, our staff shares their newly-empty beauty buys.
I won't be the first or the last to admit an obsession with this cult-favorite skin-care makeup hybrid product–but the number of bottles I've gone through is almost egregious. It has replaced my morning moisturizer, SPF, and base makeup. I even wear it when I'm "not wearing makeup" on the weekends. As a bonus, I swear it works with a light cream blush or a heavier-handed bronzer, highlighter, and powder blush line-up, too. So, I use it every day and every night.
ILIA
This might be the first non-travel size cleanser that I've ever finished and repurchased immediately. I tend to switch up my cleansers as often as I change my mood–but this one is a godsend. I love how it's deep cleaning and lightly exfoliating. I use it every morning now in the shower, and I swear my skin is brighter!
Skinceuticals
I fell in love with a small sample of this simple yet effective eye cream and I hoped it would never end. Radical anti-aging treatments or multitasking eye creams can be great, too, but when my sensitive skin is acting up from the cold weather, I go back to this calming product. Issue is, since I love it so much, it's always almost empty!
Dr. Barbara Sturm
Nutrient Face Serum
This nourishing vitamin serum for the face is sophisticated and potent—two things I wholeheartedly believe in when it comes to self-care and skin care. Besides leaving no residue on the skin (you can absolutely wear under makeup!), this formula optimizes stem cell recruitment, while brightening, repairing, and firming your skin. I finished mine down to the last drop and will be ordering more on Neiman Marcus asap!
Retrouve
I would sleep in this smooth formula if I could—I swear it's the best sunscreen I've ever tried for day-to-day wear. I slather it on under foundation—it's so silky, it leaves the skin feeling like it has on primer—and also for sports, when I know I need that added layer of strong sun protection. I order this on repeat and cannot recommend enough.
Isdin
I've been a major fan of Shani Darden for some time, but it wasn't until recently that I tried her products, most specifically her exfoliating serum. I finished it down to the last drop—it's so good. Unlike harsh astringents that leave your skin feeling stripped, this gently exfoliated my skin leaving me refreshed, brightened, and noticeably more even toned. Pro tip: I like to apply the product at night and then use her incredible sculpting wand to optimize penetration and oxygen uptake.
Shani Darden
I'm a huge Youth to the People fan, and this mask has become my latest obsession. Not only does it smell amazing, it is exactly the extra boost of moisture my dry skin craves—especially in the winter! After just one use, my skin felt so silky smooth that the mask now has a permanent spot in my vanity.
Youth to the People
Sumiko Wilson
These balms are a total dream. They come in such rich, luscious colors and add the perfect pop to your lips and cheeks, whether it's a light or full makeup day. It's so easy to slip one in my bag to keep with me wherever I go.
Olio E Osso
How adorable is this little bee? I've rarely met a Lush product I didn't like (big bath person here) and usually prefer trying different soaps and scrubs each time I shop, but this guy is a keeper. As soon as I finished my first, I immediately bought another—it leaves my skin super soft and hydrated after a shower.
Lush
This winter has been particularly cold and my lips have been seriously starved of moisture. So on top of treating them with a scrub, mask, and balm, I've incorporated a salve into my lip-care routine. I quickly breezed through it, though. When I swipe on Aesop's Cedar and Citrus Salve, it gives my lips a subtle, warming tingle and leaves behind a glossy sheen. Thanks to the blend of castor oil, grapefruit, and orange rind, it smooths out cracked lips with a sweet side of aromatherapy.
Aesop
Among my friends, it's a well-known fact that I like to go foundation-free. But for days when I don't want foundation but still want something, this comes clutch. It's not a stretch to say that this has been my favorite going out base lately, thanks to the ultra glowy finish. It's dewy and then some.
Huda Beauty
This is one of the most indulgent steps in my skin-care routine. The texture is rich but not gratuitously heavy, and it leaves behind a subtle scent that I actually don't mind at all (some skin-care enthusiasts are anti-fragrance, I'm not). After slathering it on, my skin is so supple that I have to resist the urge to touch my cheeks. But what sets it apart from other rich creams is the glow that it leaves behind. For no-makeup days when I don't want to look like a corpse, this is what I count on to look Zoom camera-ready.
Tatcha
window.REBELMOUSE_ACTIVE_TASKS_QUEUE.push(function(){
var makeMonitor = (getStatus, cb, delay) => { delay = delay || 100; var monitor = () => { var time = +new Date(); var status = getStatus(); if (status) { return cb(status); } else { if (!stopMonitor && +new Date() - time < 30 * 60 * 1000) { monitorId = setTimeout(monitor, delay); } else { cb(false); } } }, cancel = () => { stopMonitor = true; clearInterval(monitorId); }; let monitorId, stopMonitor = false; return { start: monitor, cancel: cancel, }; };
var leftArrowCarrousel = makeMonitor( function () { return document.querySelector( ".shop-sidebar.shop-posts .posts-wrapper .slick-next" ); }, function (res) { res.addEventListener("click", () => { gtag("event", "Left Arrow Click", { event_category: "Shopping Module", event_label: "Previous product at carrousel", }); }); } );
leftArrowCarrousel.start();
var rightArrowCarrousel = makeMonitor( function () { return document.querySelector( ".shop-sidebar.shop-posts .posts-wrapper .slick-prev" ); }, function (res) { res.addEventListener("click", () => { gtag("event", "Right Arrow Click", { event_category: "Shopping Module", event_label: "Next product at carrousel", }); }); } );
rightArrowCarrousel.start();
var buyButton = makeMonitor( function () { return document.querySelectorAll( ".shop-sidebar.shop-posts .posts-wrapper .widget__product-buy-link-btn" ); }, function (res) { for (let button of res) { button.addEventListener("click", () => { gtag("event", "Buy button click", { event_category: "Shopping Module", event_label: `${button["href"]}`, }); }); } } );
buyButton.start();
var imageShopp = makeMonitor( function () { return document.querySelectorAll( ".shop-sidebar.shop-posts .posts-wrapper .widget__head a" ); }, function (res) { for (let image of res) { image.addEventListener("click", () => { gtag("event", "Image click", { event_category: "Shopping Module", event_label: `${image["href"]}`, }); }); } } );
imageShopp.start();
var productTitle = makeMonitor( function () { return document.querySelectorAll( ".shop-sidebar.shop-posts .posts-wrapper .widget__headline .widget__headline-text" ); }, function (res) { for (let product of res) { product.addEventListener("click", () => { gtag("event", "Product title click", { event_category: "Shopping Module", event_label: `${product["href"]}`, }); }); } } );
productTitle.start();
});
window.REBELMOUSE_ACTIVE_TASKS_QUEUE.push(function(){
window.REBELMOUSE_STDLIB.loadExternalScript("https://s.skimresources.com/js/150311X1615657.skimlinks.js", function() {
});
});
window.REBELMOUSE_ACTIVE_TASKS_QUEUE.push(function(){
!function(f,b,e,v,n,t,s){if(f.fbq)return;n=f.fbq=function(){n.callMethod?n.callMethod.apply(n,arguments):n.queue.push(arguments)};if(!f._fbq)f._fbq=n;n.push=n;n.loaded=!0;n.version='2.0';n.queue=[];t=b.createElement(e);t.async=!0;t.src=v;s=b.getElementsByTagName(e)[0];s.parentNode.insertBefore(t,s)}(window, document,'script','https://connect.facebook.net/en_US/fbevents.js');fbq('init', '1248680838922690');fbq('track', 'PageView');
});
window.REBELMOUSE_ACTIVE_TASKS_QUEUE.push(function(){
window.REBELMOUSE_STDLIB.onElementInViewport({ threshold: 400, selector: "video", oneTime: true, onIntersect: function(entry){ var element = entry.target; element.setAttribute("allow","autoplay"); element.loop = true; element.muted = true; element.autoplay = true; element.setAttribute("playsinline","true"); //element.controls = false; element.play(); } });
});
https://coveteur.com/editors-beauty-products-empties