Style Spotlight: Dallas-based Fashion Influencer Lizzy Savetsky
5 min read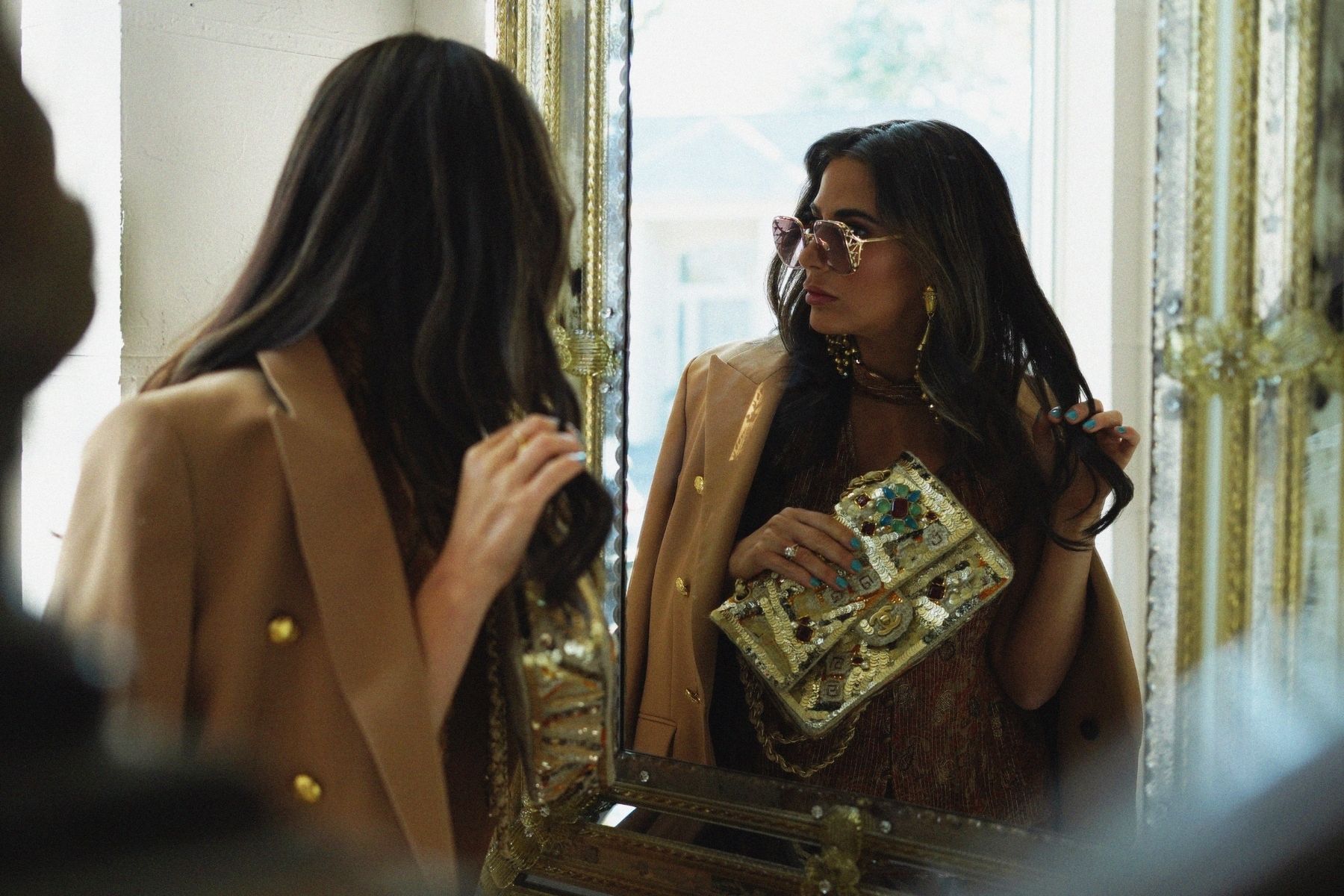 Fashion influencer Lizzy Savetsky never thought she'd move back to Texas. The Fort Worth native decamped to New York City years ago for college and to get in touch with her Jewish identity. She developed her sense of style, met her husband, Ira, at 19, got married at 23, and had three kids. Then in 2019, Ira, a plastic surgeon, got a fellowship in Dallas. 
"So my New York husband dragged me back to Texas," Savetsky jokes. "And I ended up like really falling in love with [Texas] again."
Savetsky says coming back let her re-embrace her love of bold colors and big bling. With fashion, people aren't afraid to be seen in Texas, she says. "People just wear their hearts on their sleeves here." 
And that fits perfectly with Savetsky's style. Always drawn to the glitz and glam (her bat mitzvah theme was shoes), she launched her blog, Excessories Expert in 2012. She collects vintage pieces, like Chanel jewelry and belts, as well as statement pieces. 
"I look at my accessories almost as pieces of art that I collect," she says. "And I just like to have fun." 
Over the years, Savetsky has grown her following—she has close to 200,000 followers on Instagram—and her closet. Now she's looking to declutter.
Savetsky has partnered with Dora Maar, a luxury online consignment company. Named for French artist Henriette Theodora Markovitch, who was famously Pablo Picasso's muse, the platform tells the story of vintage clothing through curated closets of tastemakers and influencers—called muses, natch—from across the fashion world. 
"The love and care and the personalization of these pieces is just so beautiful," Savetsky says, "and inspires your creativity and really breathes new life into that." 
Since December 2021, Savetsky has curated around 600 pieces (although not every piece belonged to her, she notes) for Dora Maar, launching closet drops periodically. Her final drop launches Tuesday, January 25. We caught up with Savetsky to talk style, cleaning out her closet for Dora Maar, and how she's used her platform to spread awareness of problems facing the Jewish community. 
You started your career as an influencer with accessories. What do you love about them?
I am very much at the mindset that I want to feel good. And I do believe that like beauty comes from the inside out, but I also think it could work the other way. And if I'm just throwing on a fabulous pair of sunglasses, and then going to the grocery store, I instantly feel like a badass. Like I'm ready to conquer the world, even if I'm just doing my mundane carpool run.
Besides just accessories, can you describe your style as a whole?
I tend to be a little bit impulsive. I'll buy things that don't necessarily seem practical to the average person. But I love when pieces start a conversation or tell a story or bring me back to a certain place in my life. And for me, like a crocodile trench coat is something that becomes an heirloom that you pass down to your children. 
When did you realize you needed to clean out your closet?
I definitely have too many clothes. During the pandemic, it definitely came to a head because, you know, we are all spending so much time at home and I was like, I have so much stuff. Like, literally it's disgusting. And I mean, my currency is shoes and bags, so I have collected them over the years. And as much as I love them, you know, there are the pieces that I don't wear as much. And it made me a little bit too self-aware in a way when I had to see them all the time. And I'm like, I'm going nowhere, I have all this stuff that is beautiful that is not being loved or worn by me. And so that's when I really shifted to start cleaning out.
How did you pick which pieces to sell on Dora Maar?
When I look at my closet to figure out what I'm going to consign, if I second guess it, I'm cosigning it. Because I feel like it's like dating. Like, if I have any question about it, it's probably not the one for me anymore. I need to be positive in my gut that we belong together.
Were there any pieces that were difficult to let go of?
I have this Chanel belt. It was one of my first big-ticket purchases. That's when I started making money. And it's vintage. It's spectacular. I've worn it so many places. But it comes a certain point where it's like, I haven't worn it in two years. I could wear it again. But I will be forcing it to just try to prove a point to myself that I don't want to part ways with it. And, you know, I think it's like, I have the memories forever. I have the photos of me wearing it forever. I don't necessarily need the item.
Besides clothes, you use your platform to educate people on Jewish topics. Why was this important for you to do?
For me, Judaism is very grounding. Just because it's so much a huge part of my identity. And I also feel like having this platform has been such a gift to be able to make change in the world. And I think we have to be very careful with social media, because it can be this breeding ground for jealousy and showing off. And so I feel a lot of responsibility as somebody out there, putting my life out there, to be honest and to also delve a little bit deeper. And, you know, I use fashion as a way to get people's attention. 
How has your audience responded to this shift?
My audience has been incredibly receptive to this new shift. They are thirsty for real content. I think especially where we are in the world right now, it's not enough to just be a beautiful girl with really expensive pieces and great fashion tastes. We want to see the whole person. We want vulnerability. I've been so grateful that the social media world has been shifting in that direction. You know, we had the Black Lives Matter movement, and there's been just like a lot of rampant anti-Semitism in the past couple years, and people have taken to social media to stand up for themselves. 
This interview has been lightly edited for length and clarity.
Author
Catherine Wendlandt
View Profile


Catherine Wendlandt is the online associate editor for D Magazine's Living and Home and Garden blogs, where she covers all…
Style Spotlight: Dallas-based Fashion Influencer Lizzy Savetsky