David's Bridal acquires wedding planning startup Anomalie
3 min read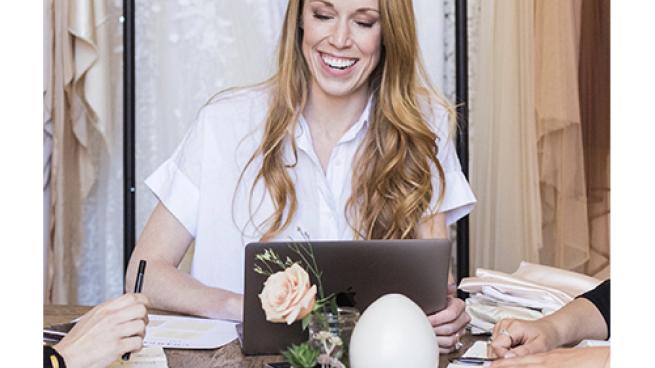 The nation's largest bridal retailer continues to expand its omnichannel capabilities with a new purchase.
David's Bridal is acquiring Anomalie, a provider of digital wedding planning tools. Leslie Voorhees Means, co-founder and CEO of Anomalie, will join the company to lead the implementation of new strategic initiatives. She will report to Kelly Cook, chief marketing & IT officer of David's Bridal. 
Since 2017, Anomalie has developed technology for brides to visualize their dress and plan their wedding. The company will deliver all existing orders, and no longer operate as a standalone entity. Anomalie's employees, assets and technology will be integrated into David's Bridal digital offerings. 
David's Bridal marches down the omnichannel aisle
In October 2020, David's Bridal acquired Rustic Wedding Chic, an online guide for planning weddings. This followed the introduction of a number of omnichannel services from David's during the peak pandemic year of 2020, including an augmented reality-based wedding dress visualization tool and video-based virtual appointments. 
And since that time, David's Bridal has remained active in developing new omnichannel options. In February 2021, the retailer launchedthe "Little White Dress Boutique." This collection of ready-to-wear dresses is available in all of its brick-and-mortar stores and online, with select styles available to view in 3D and augmented reality. 
In April 2021, David's Bridal began enabling customers to contact it anytime day or night via the LivePerson-based Zoey mobile CRM tool . The following month, the retailer introduced a new round-the-clock wedding planning channel on the YouTube Live livestreaming platform.
Other key omnichannel services David's Bridal has rolled out in the past year include the release of print and digital versions of a seasonal guide for wedding looks, designs, and collections; as well as a seamless floral partnership with The Bouqs Company Weddings.
"When it comes to finding her dream dress, our brides told us loud and clear that they are seeking inspiration online but still want the certainty of an in-store experience to finalize such an important purchase," said Cook. "As the needs of the brides evolve, so do we. We are so excited to work with Leslie to enhance our industry-leading digital offerings that complement our 300+ global locations."
"David's Bridal is the leader in this space and is the only company with a national store network and digital solutions to meet the bride where she is during every step of wedding planning," said Voorhees Means. "I am excited to integrate Anomalie's technology and customer experience into the David's Bridal family to further strengthen the commitment to offer a fully integrated end-to-end one-stop-shop for her.  
"David's Bridal is a leader in personalized garment options for the entire wedding party. One in three brides purchases their wedding dress at David's Bridal – and each one of them has access to personalized styling consultations, the largest selection of dresses for the bride and bridal party, and the country's largest network of alteration artisans," added Voorhees Means. "I am excited to help the company build tools to bring this personalized experience to other parts of the wedding planning journey."  
Specific terms of the transaction are not being disclosed.
David's Bridal operates more than 300 stores located across the U.S., Canada, U.K., and franchise locations in Mexico.
https://www.chainstoreage.com/davids-bridal-acquires-wedding-planning-startup-anomalie